Cash for Clunkers ending
With money running out, $3 billion Cash for Clunkers program will end on Monday. The tally so far: 457,000 cars and $1.9 billion in rebates.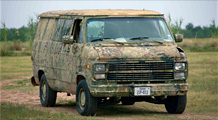 Take a peek at the heaps (no offense) these 6 turned in -- or tried to turn in -- to get their Cash for Clunkers deal.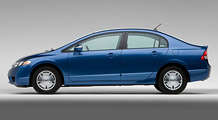 These five ultra-efficient vehicles have earned the Insurance Institute for Highway Safety's Top Safety Pick Award.
Find your next Car

NEW YORK (CNNMoney.com) -- The $3 billion Cash for Clunkers program will shut down on Monday, the government said Thursday.
Dealers must submit any pending Clunker deals, including any necessary paperwork, by 8 p.m. ET Monday.
"It's been a thrill to be part of the best economic news story in America," said Transportation Secretary Ray LaHood. "Now we are working toward an orderly wind down of this very popular program."
Officials decided to wind down the program, which Congress passed to spur flagging auto sales, after determining that it would soon run out of money.
As of Thursday, the program has recorded more than 457,000 dealer transactions worth $1.9 billion in rebates.
The Department of Transportation is confident, based on its own analysis of Clunker deals that have been submitted and those that are still pending, that the program has enough money left to continue through Monday night, a senior White House official said.
"We are providing several days for consumers and dealers to finalize deals," the official said.
Under the Clunkers program, which launched July 27, vehicles purchased after July 1 are eligible for refund vouchers worth $3,500 to $4,500 on traded-in cars with a fuel economy rating of 18 miles per gallon or less.
"We expect there will be a flurry of activity over the weekend as the program comes to a close," Jeremy Anwyl, chief executive of the automotive Web site Edmunds.com, said in a statement.
"With a date certain, NADA is strongly recommending that all dealers now focus their attention and efforts on submitting reimbursement claims prior to the looming deadline," said John McEleney, chairman of the National Automobile Dealers Association in a statement on Thursday.
Car dealer Brian Benstock, president of Paragon Honda in Woodside, N.Y., said he's already written 200 Clunker deals and will have a big advertising push this weekend to get a few more.

"We're leaving nothing behind," Benstock said. "When it's over its over and we're leaving no dollars on the sidelines."
Car buyers trading in a vehicle must prove that the vehicle has been titled to them for at least a year and, in most states, that the car has been insured for a year.
Dealers are required to disable and destroy any clunked vehicle so that it cannot be resold.
Dealers have complained that the Transportation Department has been slow to process rebates -- slowing their rebate checks and putting them in a financial squeeze. In response, the department recently hired additional personnel.
The program proved wildly popular, running through its initial $1 billion in its first week and leading lawmakers to approve an additional $2 billion in funding on Aug. 7.
Cash for Clunkers has been credited with boosting auto sales, sparking several automakers to re-open closed plants in an effort to refill ravaged inventories. Industry analysts at J.D. Power and Associates forecast that August retail auto sales, a figure that excludes fleet sales to businesses, will pass the 1 million unit mark, thanks largely to the program. That would make it the first million-plus retail sales month in a year.
"Improved consumer confidence and credit availability during the past six months have combined with the CARS program to lift industry sales out of their slumping year-to-date levels, which have been down approximately 35% year-over-year," said Gary Dilts, senior vice president of global automotive operations at J.D. Power and Associates, in a statement.
Overall auto sales are still expected to be down slightly, mostly due to low inventories hampering fleet sales, J.D. Power said. The company has boosted its overall projected sales for the year due to the success of the program.
What remains to be seen now is where things go from here.
"The effectiveness of the 'cash-for-clunkers' program will be judged in a number of ways, but a key measure will be how does the automotive market respond to the absence of the 'clunkers' incentive to buy now?" said Jack Nerad, editorial director at auto pricing trackers Kelley Blue Book, in a statement.

Features

These Fortune 100 employers have at least 350 openings each. What are they looking for in a new hire? More

It would be the world's second-biggest economy. See how big companies' sales stack up against GDP over the past decade. More