How I got a $200,000 credit line
You'll need to demonstrate more than solid financials to get a bank behind your business.
Map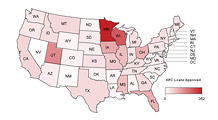 The government's America's Recovery Capital (ARC) loan program aims to help struggling small businesses. Here's a look at which banks are making the loans.
View Map
Photos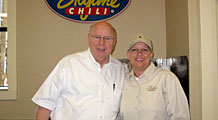 (Fortune Small Business) -- I learned the hard way that bank financing is all about personal relationships.
In 1995 my husband, Daryck, and I launched Environmental and Occupational Safety Services (EOSS) from our kitchen table. We were both mechanical engineers who wanted to spend more time with our children, so we went into business for ourselves. I ran the company full-time. Daryck helped out but kept his day job in engineering (he has since joined EOSS full-time).
We bootstrapped the business at first, providing environmental health and safety training for the state of New Jersey. Eventually we added services such as managing environmental cleanup projects. And in 2005 we won a big federal contract to operate and maintain groundwater treatment plants for a military airport in Lakehurst, N.J. I promptly applied for a $50,000 bank loan to cover the expenses we would incur before we received our first payment from the government.
Money isn't everything
I had a good history with that bank: I'd had a merchant account there for a decade, and in recent years our monthly deposits had averaged between $20,000 and $30,000. The government contract promised more than $50,000 a month for the next three years, so I thought I was a shoo-in for the loan.
But despite my solid financials, the bank turned me down. In the end we used personal savings and a $30,000 loan from Daryck's parents to cover our costs until we got paid.
After that I became disenchanted with banks. To tide us over I started selling our accounts receivable to a local factoring firm, which wasn't cheap. Then my uncle, a business owner, gave me some invaluable advice. "Never bank at the window," he said. "Always go inside and establish a relationship with your bankers."
Banking goodwill
It was worth a try. After all, I'd never even met a bank manager before. I headed to the local branch of our new bank -- we had transferred our business by then -- and introduced myself to the manager and even the tellers. That year I invited the whole branch to our Christmas party at a nearby hotel. Very few bank employees came, and those who did stopped by only to say hi (bank rules prohibited accepting food or drink from customers), but it certainly helped them remember me!
And even though I preferred online banking, I started dropping by the branch at least twice a month. I would chat with the vice president about everything from her latest handbag to recent articles about EOSS -- and I always made sure to e-mail her news clippings about our company.
In 2006 I applied for a $50,000 line of credit. It was approved. Less than a year later I went to the branch and found that I'd been automatically approved for double that amount! Today we have a $200,000 line of credit at a rate that's only slightly above prime. And we've finally stopped factoring.
I never realized how important it is to create a positive banking relationship. Many bank decisions, such as loan approvals, depend not only on credit reports and cash flow statements but also on a banker's subjective judgment, so it's essential that the manager know you personally, understand your core values and see you as a good investment. That's the best way to make sure you're taken seriously.

To write a note to the editor about this article,
click here
.