Airport stimulus deal protects jobs - and planes
A $3 million contract to update airport navigational systems has been a guiding light for this engineering firm.
Map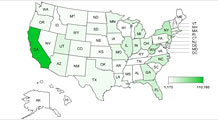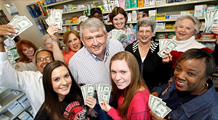 Using $2 bills and "buy local" promotions, these 6 towns have launched their own campaigns to keep local businesses alive.
NEW YORK (CNNMoney.com) -- Steven Ozuna had 15 pink slips ready to distribute to his employees. Like many small companies, his engineering firm was struggling to land new business, and Ozuna needed to cut costs. Then, in May, Ozuna was tapped by the Federal Aviation Administration to complete a stimulus project -- a deal that has kept his company's staff intact.
Ozuna owns New Bedford Panoramex, an Upland, Calif., firm that started in his family's garage in 1966. Ozuna's father, the company's founder, launched NBP as a general-services engineering company, scoring contracts from the private sector and government agencies.
"We got our feet wet with the Department of Energy, Department of Defense and Department of Transportation," Ozuna said. "But about 20 years ago, we dropped our other lines of business and just focused on airports and airport safety."
Today the firm specializes in designing and manufacturing navigational aids for landing airplanes. "Our [systems] are applicable from the military runways to the smallest airports on the islands of Alaska," Ozuna explains.
After five years of development, NBP perfected a technology called Replacement Lamp Monitoring System (RLMS) that can digitally monitor and control the navigation lights that lead up to runways. Pilots use this path lighting as a guide as they approach airports. In the daylight, the lights look like of rows of high-intensity strobes on telephone poles. But at night and when visibility is poor, the poles -- spaced about every 100 feet -- act as a bright path that planes can follow to the runway's entrance.
A typical path has 247 lights. "If one light goes out, it's no big deal, but if a [row] goes out, it could be catastrophic," Ozuna said.
In the past, the only way to monitor the lights was to send FAA officials out to physically check each pole. But the last pole could be more than three miles from the runway, making that type of checking inefficient.
NBP's monitoring technology is integrated with specialized software installed in the airport's air traffic control tower. When a light -- or a block of lights -- goes dark, the system sends off alerts.
"In inclement weather, if we didn't have this system, we would have to send out an FAA person who would have to check the lights every couple of hours," an FAA representative said. (Agency officials would not comment for attribution about NBP's project.) "This [technology] automates that and will eliminate human error."
NBP's system has another benefit: It's relatively cheap.
"Some airports have lighting systems that are 40 years old. We can upgrade them to current technology without ripping out all the wiring and dealing with the hardware," Ozuna said. "Through the retro-hardware, it'll cost $250,000 to $300,000 [per landing path], as opposed to the millions it would cost for an entirely new system."
When NBP first took the Replacement Lamp Monitoring System to the FAA in the late '90s, the agency responded well and subsequently contracted the company to install 12 systems in eight airports across the U.S. But by this February, NBP found itself in a work drought. New business was not coming in, and Ozuna needed to cut overhead to keep the company going. He made the hard decision that he would have to lay off 15 of his company's 48 employees.
"These were very highly skilled, unique individuals that cannot be easily replaced," he recalls. "Senior engineers, technicians, installation personnel -- it's very difficult to find these people."
But before he had the chance to deliver the bad news, the company was tapped by the FAA to take on a contract that became available thanks to Recovery Act funding. "We didn't need to bid -- we are the only company that has this technology," said Ozuna. "I was as shocked as the next guy when we got the request to participate. But I think we were selected because they knew we were shovel-ready and had a good track record."
Ozuna signed a contract on May 15 for $2.56 million to install RLMS at nine airports. A month later he signed a second contract for another airport that brought the total up to $2.85 million.
The company started work right away to complete the two-year deal. Systems at LA/Ontario International airport in California and Dallas/Fort Worth in Texas have already been retrofitted. Another at Denver's airport was wrapped up this week.
In addition to letting him keep his valuable employees, Ozuna is optimistic that the stimulus contract will lead to more opportunities.
"I believe unequivocally it will help us not just in the U.S. but internationally -- that we will be able to apply this technology in airports around the world," he said. "The stimulus is a great shot in the arm for companies like us."

To write a note to the editor about this article,
click here
.