Cash for Clunkers: Only hours remain
Dealers race to file final paperwork for Cash for Clunkers deals as $3 billion program winds down Monday.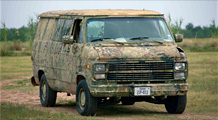 Take a peek at the heaps (no offense) these 6 turned in -- or tried to turn in -- to get their Cash for Clunkers deal.
Find your next Car

NEW YORK (CNNMoney.com) -- Cash for Clunkers is just about at the end of the road.
The government-funded rebate program, popular with consumers, comes to its official completion on Monday.
Dealers still have only until 8 p.m. Monday ET to write deals deals under the program.
The government has extended the deadline for filing Clulnker voucher claims to noon Tuesday following technical problems with the Web site dealers use to submit claims, the Department of Transportation announced Tuesday afternoon.
The U.S. Department of Transportation had received 625,000 applications from dealers for Cash for Clunkers vouchers totaling $2.58 billion as of Monday morning, the DOT said.
In a statement released late Friday, the National Automobile Dealers Association called on the government to accept dealer rebate requests until Aug. 31. The group cited computer slowdowns that could result from "overwhelming demand" on Monday.
Some dealers said they were participating in the Clunker program right up to the end. Others said they had stopped because they didn't want to risk giving a $4,500 discount on a car and not be reimbursed by the government.
AutoNation (AN, Fortune 500), the country's largest dealership chain, stopped doing Cash for Clunker transactions after Friday. AutoNation had completed over 12,000 deals, according to spokesman Mark Cannon.
"It's been a great run," Cannon said.
Under Clunkers, which launched July 27, vehicles purchased after July 1 are eligible for refund vouchers worth $3,500 to $4,500 on traded-in cars with a fuel economy rating of 18 miles per gallon or less.
Car buyers trading in a vehicle must prove that the vehicle has been titled to them for at least a year and, in most states, that the car has been insured for a year. Dealers have to provide copies of that paperwork, among other things, to the National Highway Traffic Safety Administration in order to get their rebates.
The Virginia Automobile Dealers Association reported late last week that about 25% of its member dealerships had already dropped out of the program because of uncertainty over getting paid for their deals.
The Virginia auto dealers' group reports that dealers have been reimbursed for only about 3% of all the deals that have been done in that state. Hall described the submission process as challenging, with frequent problems and rejections.
"It's been ugly, ugly," Hall said.
The principal trade group for dealers made a last-minute push to extend the deadline for dealers to submit paperwork.
Did buy a new car under the Cash for Clunkers program? Please share the details. What did you buy? What did you trade in? How much did you pay? We want to find out if people have gotten deals out of this program or not. E-mail your story to realstories@cnnmoney.com or send in an iReport and you could be part of an upcoming article. For the CNNMoney.com Comment Policy, click here.

Features

These Fortune 100 employers have at least 350 openings each. What are they looking for in a new hire? More

It would be the world's second-biggest economy. See how big companies' sales stack up against GDP over the past decade. More