Clunkers: Dealers get ready for the 'hangover'
In the days and weeks after Cash for Clunkers ends, sales will drop sharply.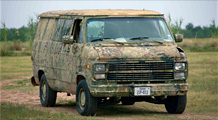 Take a peek at the heaps (no offense) these 6 turned in -- or tried to turn in -- to get their Cash for Clunkers deal.
Find your next Car

NEW YORK (CNNMoney.com) -- After the mad rush of car sales sparked by Cash for Clunkers, dealers will now find they have plenty of downtime to count their money.
The popular program, which ended Monday, will leave many showrooms without cars to sell or customers looking to buy them.
"We're definitely going to have a hangover," said Edward Tonkin, vice president of the Ron Tonkin Family of dealerships in Portland, Oregon and vice chairman of the National Automobile Dealers Association.
As of Monday morning, dealers had submitted 625,000 Clunkers applications to the government seeking a total of $2.58 billion, according to the Department of Transportation.
The Department of Transportation said Monday that it would give dealers extra time to file their rebate applications after its Web site for handling the submissions was overwhelmed. The deadline for electronic paperwork submissions has now been set at 8 p.m. ET Tuesday night.
The department said the deadline for dealers would be extended beyond 12 noon Tuesday to make up for time that was lost while the system was down.
After the heady rush of Clunkers sales, the return to normal -- especially in a market where "normal" means deeply depressed -- may be difficult to deal with.
"I think you're going to be able to shoot a cannon through here and not hurt anybody," Tonkin said.
In the short run, dealers will see sales drop precipitously, said Jeremy Anwyl, CEO of the auto Web site Edmunds.com.
"I think we're going to see a decline of about 40% in the immediate aftermath," he said.
That would take sales down to where they were in May, lower than they were in the month or two just before the program started.
Much of the decline will be because dealers don't have many cars left to sell and, as a result, prices are high.
"This is the first time in years that if someone came and said they were thinking about buying a car, I would tell them to wait," Anwyl said.
Before this, with dealers eager to unload unsold cars, car buyers were paying very low prices for cars, in many cases far below the so-called dealer cost of the car.
Dealers have been having a hard time lately finding cars even for their Clunker buyers to take.
"I am low on everything," said Caroll Smith, president of Monument Chevrolet of Pasadena, Texas.
Many buyers have been forced to take cars with colors and options they didn't really want, Smith and other dealers said.
Is a brighter day dawning? Automakers have been restarting factories and adding extra shifts to build more cars to refill depleted dealers inventories.
Many analysts were expecting a gradual recovery in auto sales beginning this summer, even before the Cash for Clunkers plan was announced. Those expectations remain.
"Improved consumer confidence and credit availability during the past six months have combined with the CARS program to lift industry sales out of their slumping year-to-date levels, which have been down approximately 35% year-over-year," said Gary Dilts, senior vice president of global automotive operations at J.D. Power and Associates, in a statement.
J.D. Power had been forecasting a late-year lift in sales and still predicts that now.
"Reduced inventories will likely hold back some of this momentum, but the automakers are moving quickly to ramp up production and rebuild stock," Dilts said.
AutoNation, the country's largest auto dealership chain, also predicts a gradual recovery in sales and thinks the Clunkers program will help boost that recovery.
"We really think that this is just going to help the gradual recovery we're going to have in the second half of the year," said AutoNation spokesman Mark Cannon.
Beyond the Monday night closing time, the program has still left consumers with the sense that "it's OK to buy a car now," Cannon said.
"The main question now is 'How fast can everybody restock their inventories?'" he said.
Once that happens, Anwyl of Edmunds.com said he expects car prices to fall quickly. Automakers will need to start adding incentives again to get people to buy all those newly minted cars. Anwyl expects incentives of about $3,000 on average.
"I would wait until probably November," Anwyl said.
Did buy a new car under the Cash for Clunkers program? Please share the details. What did you buy? What did you trade in? How much did you pay? We want to find out if people have gotten deals out of this program or not. E-mail your story to realstories@cnnmoney.com or send in an iReport and you could be part of an upcoming article. For the CNNMoney.com Comment Policy, click here.

Features

These Fortune 100 employers have at least 350 openings each. What are they looking for in a new hire? More

It would be the world's second-biggest economy. See how big companies' sales stack up against GDP over the past decade. More