U.S. between a deficit and a hard place
White House estimates $9 trillion in deficits over decade, citing cost of economic rescue as a major reason. Congress' budget office also shows increase in deficit outlook.
Bailout tracker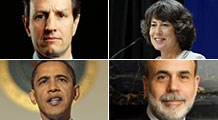 The government is engaged in a far-reaching - and expensive - effort to rescue the economy. Here's how you can keep tabs on the bailouts.
More
NEW YORK (CNNMoney.com) -- New estimates of the federal deficit leave many questions unanswered but underscore one cold fact of life in Washington right now: Boosting the economy without making an already bad deficit worse is really hard to do.
The Obama administration said Tuesday that it now expects the 10-year budget deficit to reach $9 trillion, or about $2 trillion more than it estimated earlier in the year.
Peter Orszag, director of the Office of Management and Budget, pointed to a number of measures put in place to stem the pain of the economic downturn.
"As a result of a deeper-than-expected recession, certain spending programs (such as unemployment insurance and food stamps) are projected to automatically increase and revenues are projected to automatically decline, compared to our previous projection," Orszag said in a statement.
A 10-year deficit of that magnitude means the debt held by the public -- the accumulation of all annual deficits over the decades -- would reach 82% of gross domestic product. That's double the 41% recorded in 2008.
Douglas Elmendorf, director of the Congressional Budget Office, summed up the bind that policymakers face.
"Action to reduce federal spending or raise taxes could further slow an already slow recovery," Elmendorf said at a Washington briefing. But then again, he noted, if lawmakers don't act the deficit would get worse. "We face perils in acting and perils in not acting."
Keeping score
The new White House deficit estimate assumes that President Obama's 2010 budget proposals will be passed. It brings the White House in line with a $9.14 trillion deficit estimate of the president's budget made by the CBO in June.
The CBO, which is Congress' official scorekeeper, also issued an update of its budget and economic outlook on Tuesday.
But its new 10-year deficit estimate is based on policies already in current law, and so it does not include the president's budget proposals. That new forecast is $7.1 trillion -- up from CBO's March estimate of $4.4 trillion.
The increase is driven by a few factors, including supplemental appropriations that lawmakers have made since March, such as spending money on the war in Iraq and Afghanistan, and revisions to the CBO's economic forecasts and technical assumptions, according to Elmendorf.
Elmendorf said the CBO would not be revising its 10-year deficit estimate of $9.14 trillion based on the president's budget.
But Tuesday's report did map out the effects on the deficit under a number of policy alternatives other than what's in current law. Some of those ideas have been called for by Obama, although his proposals are somewhat narrower in scope.
For instance, Obama has proposed making permanent the 2001 and 2003 tax cuts for the majority of Americans. Extending those tax cuts for everyone would add another $2.3 trillion to the 10-year deficit, CBO estimates. With interest, it would be closer to $2.8 trillion.
Obama has also called for the Alternative Minimum Tax to be adjusted so that it doesn't hit middle- and upper-middle-income families. The cost of doing so is $448 billion over 10 years, according to the CBO. Add in interest that would be owed on that debt and the ways in which the AMT fix would interact with the extensions of the tax cuts and the bill rises to just over $1 trillion.
Lastly, the congressional agency estimates that $1.8 trillion could be added to the deficit if other expiring tax provisions are extended. Some of these are among the president's proposals -- such as permanently enacting his Making Work Pay credit for lower- and middle-income families. With interest, the tab would come to $2.2 trillion.
The fiscal conundrum
Experts say that the CBO's deficit estimates would jump higher if the agency had updated its deficit estimates to account for the president's budget proposals.
"An updated CBO analysis of the President's budget would presumably provide even larger deficit projections than those released by OMB," the Committee for a Responsible Federal Budget wrote in a statement after the reports' release. The committee is made up of tax and budget experts from the left and the right.
Just how much is impossible to say, but it could push past $10 trillion, experts say. But even if it doesn't, the deficits must be brought under control.
"Something will have to give," said Rudolph Penner, a former CBO director who is now an institute fellow at the Urban Institute.
Indeed, most budget experts describe the growth in deficits as unsustainable.
"What does unsustainable mean? It means we'll be forced off track by an international crisis in the debt markets or a very large increase in interest on the debt," said Penner.
And there's no telling when something like that could happen.
"The reports highlight the need for the president and Congress to begin taking steps now to ensure that deficits will fall to reasonable levels through 2019 and that they do not grow very rapidly in later decades, as they will under current policies," said Jim Horney, director of federal fiscal policy at the liberal Center on Budget and Policy Priorities.
-- CNNMoney.com senior writer Jennifer Liberto contributed to this report.

Features

These Fortune 100 employers have at least 350 openings each. What are they looking for in a new hire? More

It would be the world's second-biggest economy. See how big companies' sales stack up against GDP over the past decade. More