Grand total: 690,000 Clunkers clunked
Cash for Clunkers comes in just under budget as consumers swap trucks for more efficient cars.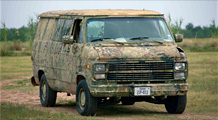 Take a peek at the heaps (no offense) these 6 turned in -- or tried to turn in -- to get their Cash for Clunkers deal.
Find your next Car

NEW YORK (CNNMoney.com) -- With the final numbers now in, the Department of Transportation said Wednesday that nearly 700,000 old cars had been traded in for new ones under the Cash for Clunkers program.
"This is one of the best economic news stories we've seen and I'm proud we were able to give consumers a helping hand," Transportation Secretary Ray LaHood said.
Shoppers had until 8 p.m. ET Monday to buy a car under the Cash for Clunkers program and dealers were given until 8 p.m. Tuesday to file their paperwork on-line to request a government voucher.
Auto dealers submitted total of 690,114 requests for vouchers, according to LaHood. Those requests totaled about $2.9 billion, or just under the $3 billion that had been allocated for the program.
Under Clunkers, which launched July 24, vehicles purchased after July 1 are eligible for refund vouchers worth $3,500 to $4,500 on traded-in cars with a fuel economy rating of 18 miles per gallon or less.
Toyota (TM) sold the most vehicles under the program, the DOT said, with about 19.4% of all Clunker sales. General Motors was second with 17.6% of Clunker sales and Ford (F, Fortune 500) was third with 14.4% of sales.
Among the most popular vehicles purchased under the program were the Toyota Corolla, Honda Civic, Ford Escape, Nissan Versa and Hyundai Elantra.
The most traded-in vehicles included the Ford Explorer SUV, Ford F-150 pick-up and the Dodge Grand Caravan minivan.
Overall, 84% of the vehicles traded in under the program were trucks, vans or SUVs while 59% of the vehicles purchased were passenger cars.
The average vehicle purchased under the program had fuel economy of 24.9 mpg in combined city and highway driving compared to an average of 15.8 mpg for vehicles being traded in.
That's an average fuel economy improvement of about 58%. The new vehicles being purchased also had 19% better fuel economy than the average vehicle available on the market today.
The White House Council of Economic Advisers estimated that the program boosted economic growth in the third quarter by 0.3% to 0.4% thanks to increased auto sales. The Council expected that increase to stretch into the fourth quarter as automakers work to refill depleted inventories.
The White House Council expected the program to create or save about 21,000 jobs, according to the report which was completed earlier this week.

Features

These Fortune 100 employers have at least 350 openings each. What are they looking for in a new hire? More

It would be the world's second-biggest economy. See how big companies' sales stack up against GDP over the past decade. More