AIG stock up 264% in August
Shares soar nearly 27% Thursday on reports that salary for new CEO Robert Benmosche has been approved by Obama's pay czar.
Bailout tracker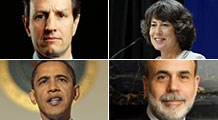 The government is engaged in a far-reaching - and expensive - effort to rescue the economy. Here's how you can keep tabs on the bailouts.
More
NEW YORK (CNNMoney.com) -- AIG's stock closed at $47.84 on Thursday. At the start of the month, shares were trading at a mere $13.14.
What's going on here?
AIG's stock has nearly quadrupled in August, but the company is no closer to paying back the $80 billion it owes taxpayers.
Investors got all wound up after the company announced in the past few weeks that it had appointed a new CEO and returned to profitability.
Shares gained another 27% Thursday after The Wall Street Journal reported that new Chief Executive Robert Benmosche's $10.5 million pay package has been fast-tracked for approval by Obama administration "pay czar" Kenneth Feinberg.
AIG pressed for a quick decision on Benmosche's compensation, over concerns he might leave the company if it wasn't immediately approved, according to the report.
The news actually came as little surprise, since AIG had previously announced that Feinberg gave the pay package a preliminary nod of approval.
A spokeswoman for AIG said the company would not comment on the status of Benmosche's pay package or on the stock price.
Investors' excitement about AIG began to build on Aug. 3, when the company announced it would replace retiring Chief Executive Ed Liddy with Benmosche, the former MetLife (MET, Fortune 500) CEO. Shares gained a modest 3.5%.
The stock skyrocketed on Aug. 5, with shares soaring 63% on hints that the company would post its first quarterly profit since October 2007. On Aug. 7, when AIG announced it earned $1.8 billion in the second quarter, shares gained another 20.5%.
On Aug. 20, Benmosche said that he was optimistic the company would be able to pay back the more than $80 billion it owes the U.S. taxpayers and return to the company's former glory. Shares rocketed 21% higher that day.
"People really like this guy Robert Benmosche, because he's really a salt-of-the-earth New York financial guy," said Damon Vickers, managing director of Nine Points Management & Research fund, which has bought up AIG's stock in recent days. "He looks like he's got the spirit to take on this situation and make the best of it."
Since the beginning of the month, shares of AIG (AIG, Fortune 500) are up 264%. The company held a 20-1 reverse stock split on June 30, when shares closed at $1.16.
Vickers said AIG's stock has a chance to hit $60 in the near term and $100 in the coming months. He noted that after the stock split, AIG's all-time high stands at $1,400, so the stock has plenty of room to grow.
No help for taxpayers
Since the government holds its 79.9% interest in AIG in preferred shares, taxpayers don't stand to gain from a steep rise in the company's common stock price.
Instead, the preferred shares pay a dividend. But the dividends on the TARP part of the bailout -- $41.6 billion, or about half of its overall loan -- are "noncumulative." That means that the company can skip dividend payments without the obligation to make up the difference later.
And that's just what AIG did on Aug. 3, failing to declare its dividend payment to Treasury. Should AIG miss three more dividends, the government will have the right to nominate two more directors to the insurer's board.
Despite Benmosche and investors' enthusiasm, AIG is still a very troubled company with a sizeable debt to repay to the government.
The insurer has said it did not make enough profit to repay the taxpayers, and AIG said it won't likely be able to sustain a string of profitable quarters anyway, as it will take hefty restructuring charges for its looming core asset sales.
AIG plans on paying back the government by selling off pieces of the company. But those asset sales have been slow-going and sold at depressed values thus far, as credit remains tight. AIG has made just over $9 billion on those deals to date. As a result, AIG has agreed to spin off three huge chunks of its business, selling stakes in two of them to the Federal Reserve to reduce its loan by $25 billion.
Before his retirement on Aug. 10, Liddy reiterated that the company would likely be able to repay the government in full in three to five years, which Benmosche echoed last week.
The company also has to deal with the ongoing distraction of hundreds of millions of dollars in bonuses that have still yet to be paid to employees of its troubled Financial Products unit. The company became the subject of a public uproar after the revelation in March that AIG paid $165 million in bonuses to employees of the division that nearly brought the company to its collapse.
Still, traders like Vickers are undeterred.
"As risky as AIG seems, it has the full backing of the U.S. government," he said. "Apparently you can take that to the bank. I'm comparing AIG to a U.S. Treasury, and I know it's insane, but it's nonetheless true."

Features

These Fortune 100 employers have at least 350 openings each. What are they looking for in a new hire? More

It would be the world's second-biggest economy. See how big companies' sales stack up against GDP over the past decade. More