Investors brace for rocky start
Futures slip following dip in Asia stocks, get little help from news of Disney's decision to acquire Marvel.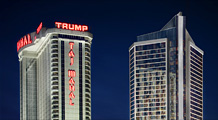 Many big companies have managed to emerge from Chapter 11, but it's a lot harder to bounce back from a second bust...or a third.
NEW YORK†(CNNMoney.com) -- U.S. stocks were poised to open sharply lower Monday, following another steep decline in global markets, despite some deal activity, including an announcement by Disney to acquire Marvel Entertainment.
Less than a half hour before the opening bell, the Dow Jones industrial average, Nasdaq 100 and Standard & Poor's 500 futures were sharply lower.
Futures measure current index values against their perceived future performance and offer an indication of how markets may open when trading begins.
World markets: The mood in global markets was downbeat Monday, with world stock indexes falling after Shanghai stocks sank 6% to a three-month low on worries about bank lending.
Elsewhere in Asia, Japan's Nikkei fell after a surge in the yen that was sparked by an election victory for the opposition Democratic Party.
Major European markets were lower in morning trading. London markets were closed for a bank holiday.
Overall market sluggishness ahead of next week's Labor Day holiday did not help futures for U.S. markets either, noted Dave Lutz, managing director equity trading for Stifel Nicolaus.
"There is not a tremendous amount of liquidity out there today, so it's not very difficult to push things around," he said.
Companies: A burst of deal activity announced Monday, however, failed to provide much of a lift to U.S. futures.
Walt Disney (DIS, Fortune 500) said it would acquire comic book publisher Marvel Entertainment (MVL) for approximately $4 billion. Marvel shares surged 26% premarket.
Oilfield services company Baker Hughes (BHI, Fortune 500) also revealed Monday that it would purchase rival BJ Services (BJS, Fortune 500) in a cash-and-stock deal worth approximately $5.5 billion.
Economy: The Chicago PMI, a regional reading on manufacturing, is due at 9:45 a.m. ET. The index is expected to have risen to 47.2 in August from 43.4 in July, according to a Briefing.com survey of economists.
Investors are looking toward a number of economic reports later in the week. Among them: Auto sales for August on Tuesday, manufacturing activity data on Wednesday and the widely watched monthly employment report on Friday.
And in currency trading, the dollar rose against the euro and retreated versus the yen.
How does your portfolio look nearly one year after the collapse of Lehman Brothers? What investment choices hurt you or helped you the most? What strategy changes are you making for the future? Tell us your story. E-mail realstories@cnnmoney.com and your thoughts could be part of an upcoming story. For the CNNMoney.com Comment Policy, click here.

Features

These Fortune 100 employers have at least 350 openings each. What are they looking for in a new hire? More

It would be the world's second-biggest economy. See how big companies' sales stack up against GDP over the past decade. More