Credit lines dry up for auto dealers
To help ailing auto dealers, the Small Business Administration launched new loan offerings -- but so far, few banks are playing along.
Photos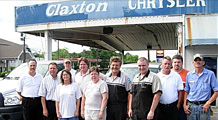 NEW YORK (CNNMoney.com) -- Most small businesses are having trouble finding loans and credit lines these days, but auto dealers are in their own special financing hell. Their inventory is expensive, their industry is in shambles, and their largest lenders are in tatters.
Recognizing that dealers need help, the Small Business Administration began rolling out new programs tailored for them. Four months in, the new programs are drawing a tepid response from lenders. A pilot project launched in July to back inventory loans to auto dealers has so far approved just one loan, according to the SBA.
"There's been no progress in freeing up credit," says Scott Gorden, principal in charge of dealerships at LarsonAllen, a Minneapolis-based accounting firm that works with 600 dealers across the country "Far and away, it's still the biggest issue faced by dealerships today. If you cut credit to them, they'll be closing. If they can't get the floor plan financing, they will shut down."
Auto dealers' credit troubles started almost a year ago, as banks tightened their credit standards for small businesses in response to the deepening recession. But a bigger problem came when industry-specific lenders like Chrysler Financial, General Motor Acceptance Corp. and Ford (F, Fortune 500) Credit began to pull back.
"They first became protective of their brand. So a Ford-Subaru-Volkswagon dealer would only get financed from Ford Credit for the Ford brands," Gorden says. "But then they started taking a look at the less profitable dealerships, and we had a number of clients who got notice from the [lender] or the bank that the financing would end in 30, 60, 90 days."
Todd Gailas, executive manager of AutoMax in Greenville, N.C., is among those who had his financing cut off. Gailas's independent, used-car dealership has sold a variety of brands in the past 10 years, using a $3.1 million credit line from New South Federal Savings Bank, a regional bank based in Birmingham, Ala. On January 27, Gailas received a letter notifying him that his credit line was on "cease and desist" status. The bank gave him 60 days to find an alternative credit source.
"Even though I've had eight previous, perfectly paid loans and I'm the number-one retailer of pre-owned vehicles within 50 miles, I can't get floor plan financing," he says. "They think the loans are toxic, and with all the audits going on, they're not willing to take on that kind of loan."
The SBA has two new initiatives aimed at helping dealers like Gailas. In early May, the agency temporarily stretched its size standard of what counts as a "small" business, a move specifically aimed at making more car dealers and auto industry suppliers eligible for a government-backed loan. The SBA insures up to 90% of qualifying small business loans against default, reducing the risk for lenders.
But the initiative had a major flaw. Although more auto dealers became eligible for the SBA's loan programs, the SBA does not cover "floor plan" loans, the main kind of financing used by auto dealers. A typical floor plan loan is a revolving credit line that a dealership uses to purchase vehicles. As the cars and trucks sell, the dealership pays down the loan.
Without floor plan financing, a dealership can't operate. The SBA set out to fix the problem. In July, the agency launched a pilot program offering government guarantees on floor plan credit lines that are between $500,000 and $2 million. Like other SBA loans, these credit lines are administered by banks and other SBA lenders -- a list that includes few of the auto industry's traditional credit institutions.
The SBA will insure up to 75% of the value of loans made through its floor plan financing pilot program. The program will run through September 2010, at which point the SBA will decide to whether terminate it, extend it, or make floor plan financing a permanent loan product.
Gailas heard about the SBA's initiative and began hunting for a willing lender. At one bank, he asked them to consider the SBA's 75% guarantee and offered to put a Certificate of Deposit in the bank to cover the other 25% of the loan. But the lender turned him down, he says, because it didn't want to do a deal with anyone in the auto industry.
Gailas has approached 20 banks so far and been turned away each time. In the meantime, he's been without credit and unable to restock his inventory. Sales have plummeted 60% and he's had to cut his staff of 24 down to nine. Without a credit line, Gailas is worried about his dealership's survival.
"I'm in dire straights and I'm confused about where to go from here," he says.
So far, just one loan has been approved through the floor plan lending project, although the SBA says others are in the queue.
Gorden isn't optimistic. "Big banks are not doing the program because of the size. Two million is too small. Most of the big banks, their floor plan lines are $5 million, $10 million, $20 million or more," Gorden says. "And the smaller banks and credit unions don't have the expertise to manage a floor plan landscape."
Unlike other loans, revolving floor plan lines of credit require the lender to manage its ongoing risk by tracking the inventory used as collateral, which means a lot of paper shuffling for the lender. But some experts don't buy that excuse.
"There's no question that if you were to line up the different categories of potential commercial lending, floor plan lending does have a greater set of burdens and costs associated with it because of the nature of the loan," says Doug Greenhaus, director at the National Automotive Dealers Association. "But you can hire [companies] to do the back-end work."
Greenhaus is frustrated that lenders are blackballing the entire auto industry and refusing to evaluate specific businesses on their own merits. "I don't care how bad the economy is," he says. "There are people who lose money and people who still do very well and make money."
For Gailas, his dealership, and his staff, the time for finding a solution is running out.
"In the eyes of everyone else, one business doesn't matter," he says. "But the ripple effect is ridiculous -- the insurance company we're with won't have our policy, the [auto] service company across the street won't have our business, my employees won't have jobs or health insurance, our tax dollars in property and income will be gone, and so on."

Correction: This article has been amended to correct the spelling of Todd Gailas' name and title. CNNMoney.com regrets the error.

To write a note to the editor about this article,
click here
.