SEC investigation: We missed Madoff
Securities and Exchange Commission watchdog says regulators missed 'numerous' red flags that suggested a Ponzi scheme was underway.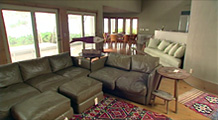 As the government prepares to put Bernie's Montauk home on the market, a U.S. Marshal gave the press a tour of the house. Here's what they saw.
WASHINGTON (CNNMoney.com) -- The Securities and Exchange Commission overlooked "more than ample" evidence, including six complaints, that red-flagged the Bernard Madoff Ponzi scheme, an internal watchdog said Wednesday.
A broad review of the SEC and its efforts at tracking Madoff found a "thorough and competent investigation was never performed."
"Despite numerous credible and detailed complaints, the SEC never properly examined or investigated Madoff's trading and never took the necessary, but basic, steps to determine if Madoff was operating a Ponzi scheme," according to a 22-page SEC inspector general report.
The report is a summary of a 450-page investigative report that is expected to highlight, in great detail, the different ways the agency missed the Madoff scandal.
The full report is expected to be released Friday.
Madoff, 71, was sentenced to 150 years in prison on June 29. He is incarcerated at a medium security federal prison in North Carolina.
Judge Denny Chin of the U.S. District Court in Manhattan said he gave Madoff the maximum sentence based on the damage that Madoff inflicted on his thousands of victims.
As in a classic Ponzi scheme, Madoff accepted funds from his investors and stole instead of investing it. He used fresh funds to make payments to other investors. The amount he stole, still under investigation, was likely in the billions of dollars.
The summary released Wednesday cleared SEC agency staffers of "inappropriate" connections with Madoff. It said that a former SEC staffer's relationship with Madoff's niece did not influence their reviews of Madoff and his firm.
But the report faults the agency for not adequately responding to complaints that date back to 1992 as well as two critical yet "reputable" media accounts that questioned Madoff's unusually consistent returns. The report says that the agency caught Madoff in lies but "disregarded these concerns."
"Even when Madoff's answers were seemingly implausible, the SEC examiners accepted them at face value," the report said.
The report added that the "most egregious" mistake was the failure of investigators to follow up on a tip that Madoff wasn't trading the volume of securities that he said he was trading. They had even asked for Madoff's "Depository Trust Company" account number, suggesting they intended to check with the independent clearinghouse.
Even Madoff was spooked and thought at the time, "it was the end game, over."
But the agency never followed through.
"A simple inquiry to one of several third parties could have immediately revealed the fact that Madoff was not trading in the volume he was claiming," the report said.
Attorney Nancy Fineman interviewed Madoff this summer, and he talked about the piddle with SEC investigators who didn't follow up.
"He said he thought he'd come on Monday and he'd be shut down. And he wasn't, and he wasn't the next day, and he kept on defrauding," said Fineman of Cotchett, Pitre and McCarthy in San Francisco. "He knew that he was kind of a ticking time bomb since then."
Several lawmakers on Wednesday seized on the inspector general's findings. Congress has been waiting for the report as it considers how to overhaul the financial regulatory system.
"The inspector general's report lays out the string of massive regulatory failures and incompetent investigations at the SEC that led to unimaginable loss for so many," said Sen. Chris Dodd, D-Conn., chairman of the Senate Banking Committee. "We will use this report to learn what went wrong and figure out how best to get things right."
Calls for action
The final report is expected to be the most detailed picture yet of the SEC's failure to catch a Ponzi scheme so big that it touched thousands of investors.
SEC Chairwoman Mary Schapiro said in a statement Wednesday that her office has beefed up enforcement in recent months and has begun "implementing the lessons learned." The agency has already shut down, by emergency restraining orders, more than twice the number of Ponzi schemes and frauds than the agency did last year, she said.
"The findings contained in the report reinforce my view that the many changes we have made since January will help the agency better detect fraud," Schapiro wrote.
Schapiro was appointed by President Obama earlier this year. The former SEC chairman, Christopher Cox, asked Inspector David Kotz to delve into the Madoff scandal and the agency's failure to detect it last December.
The Kotz report is also supposed to reveal whether internal agency policies failed to be enforced or were too weak to catch the scandal.
In early March, Kotz told Congress that he planned, when his probe was final, to make recommendations ranging from disciplinary action to suggestions about how to avoid such mishaps in the future.
CNN Radio Correspondent Steve Kastenbaum contributed to this report.

Features

These Fortune 100 employers have at least 350 openings each. What are they looking for in a new hire? More

It would be the world's second-biggest economy. See how big companies' sales stack up against GDP over the past decade. More