Clunkers payments get green light
The government says it has okayed $500 million so far, and will reimburse all eligible dealer requests by the end of September.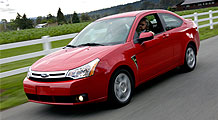 These are the most popular cars purchased under the Cash for Clunkers program.
Find your next Car

NEW YORK (CNNMoney.com) -- The government said Thursday it has so far approved $500 million to reimburse auto dealers for cars sold under the Cash for Clunkers program, and will refund all eligible dealer requests in the nearly $3 billion program by the end of the month.
According to a Transportation Department official, more than 120,000 dealer submissions have been approved. All eligible and completed dealer submissions from program should by paid in full by Sept. 30, the official said.
The government received a total of 690,114 requests for vouchers under the program. Those requests amounted to about $2.9 billion, or just under the $3 billion that had been allocated for the program.
The program, which ended Aug. 24, was designed to spur sagging auto sales by offering buyers cash to trade in older vehicles for new, fuel-efficient models. But many dealers had been nervous about reimbursements, since demand for the program was much stronger than expected.
Under the Clunkers program, eligible buyers received refund vouchers worth $3,500 to $4,500 on new, more fuel-efficient vehicles if they traded in vehicles with a fuel economy rating of 18 miles per gallon or less.
The program made August the best month of the year for auto sales. Industry-wide sales were 1.2 million vehicles last month, up 1% from a year ago. That was the first annual sales gain since October 2007, and sales were about 26% above July's levels.

Features

These Fortune 100 employers have at least 350 openings each. What are they looking for in a new hire? More

It would be the world's second-biggest economy. See how big companies' sales stack up against GDP over the past decade. More