Job losses ebb, but unemployment up
Unemployment jumps to a 26-year high of 9.7%, even as employers cut the smallest number of jobs since August 2008.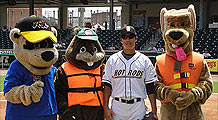 What do Bobber the Water Safety Dog, a reach-in freezer, sliced ham and 115 office chairs have in common? They were all funded with Recovery Act dollars.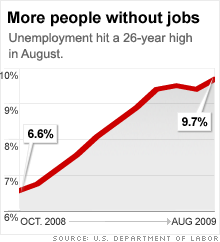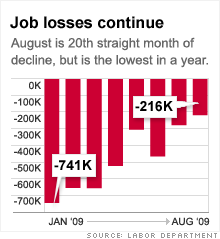 NEW YORK (CNNMoney.com) -- Employers trimmed fewer jobs in August than they did the prior month, but the unemployment rate jumped to a 26-year high, the government reported Friday.
There was a net loss of 216,000 jobs in the month, according to the Labor Department. That was the fewest jobs lost since August 2008 and lower than a revised loss of 276,000 jobs in July. Economists surveyed by Briefing.com predicted a loss of 230,000 jobs in August.
But even with the lower level of losses in August, 6.9 million jobs have been cut from payrolls since the start of 2008.
The unemployment rate, which in July fell for the first time in 15 months, turned higher again, jumping to 9.7% from 9.4% in July. This is the highest the unemployment rate has been since June 1983. Economists forecast that the jobless rate hit 9.5% in August.
The unemployment rate is based on a survey of households while the payroll estimate comes from a survey of employers. That can explain why unemployment rose even though there were fewer job cuts.
But the July drop in unemployment was due more to people without jobs no longer looking for work than it was due to hiring. Relatively few people got discouraged and left the labor force in August.
"When you're losing 200,000 jobs a month, the unemployment rate can't help to go up unless you have a lot of people just giving up," said Tig Gilliam, CEO of Adecco Group North America, a unit of the world's largest employment staffing firm.
Summer jobs tough to find
Bernard Baumohl, chief global economist for the Economic Outlook Group, said part of the reason for the high unemployment rate is the difficulty teenagers had finding summer jobs this year. The unemployment rate among teenagers was 25.5%, a record high.
"I'm less concerned with the unemployment rate increase because the summer tends to play a lot of havoc with these numbers," Baumohl said.
Gilliam said he's encouraged because job losses among temporary workers fell to 6,500 from 7,900 the month before. Losses in that segment of the job market, seen as a barometer of employers' hiring plans, had been averaging about 46,000 a month from the start of 2008 through June of this year.
"We expect to see the temporary workers number go positive in September or the next few months. That will set us up for overall job gains in early 2010," he said.
Gilliam said he sees far more clients filling openings and making hiring plans for a few months from now. But he predicts only modest job gains ahead.
Friday's report also showed that there were 9.1 million workers limited to part-time jobs because they couldn't find full-time positions, up 278,000 from the month before.
That number of so-called underemployed workers had been falling over the past two months, leading to hopes that employers who had been cutting their staff's hours were at least bringing people back on full time.
Many economists think that adding hours for employees is an important precursor to actual hiring. So the increase in involuntary part-time workers may be viewed as disappointing.
Still, Baumohl said the importance of the decline in job losses should not be underestimated. He said the only way to turn around the labor market is for those losses to slow down first.
"We do have to look at the momentum, and the momentum was positive," he said. "The labor market is in the process of turning around, but it is going to be agonizingly slow. Most Americans won't detect it anytime soon."
Job losses continue to be widespread
Despite automakers ramping up production to meet demand for fuel-efficient vehicles sparked by the Cash for Clunkers program, auto plants and auto parts makers lost nearly 15,000 jobs in August.
There was a 5,000 job increase at auto dealers though, ending a string of 21 months of job losses in that industry. Manufacturers outside the auto sector lost an additional 50,000 jobs, however.
The construction sector shed another 65,000 jobs as well. That loss came despite signs that building starts and home sales have been improving in recent months and increased spending on public works projects tied to the government's economic stimulus package.

Have you suffered a setback because of the economy? What are you doing to overcome it and get back on track? If you've been confronted with some challenge during this recession but are fighting back, send an email to realstories@cnnmoney.com and you could be profiled in an upcoming segment on CNN. For the CNNMoney.com Comment Policy, click here.

Features

These Fortune 100 employers have at least 350 openings each. What are they looking for in a new hire? More

It would be the world's second-biggest economy. See how big companies' sales stack up against GDP over the past decade. More