Tell yo momma: 'It's not just a copy, it's a crime!'
The Software & Information Industry Assocation revamps its classic early 90s anti-piracy video "Don't Copy That Floppy" for the iTunes era.
301 Moved Permanently
---
nginx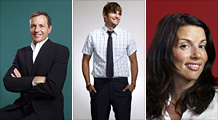 These tech-world luminaries - photographed during our recent Brainstorm Tech conference - aren't just changing the game; they've defined it. Photographs by Robyn Twomey.
NEW YORK (CNNMoney.com) -- "Don't copy, don't copy that floppy!"
The tech literati will remember that jingle from the uber campy -- and funny -- 1992 anti-piracy video "Don't Copy That Floppy." With the techno music and 80s-era style, the video was definitely needed a makeover for the iTunes era.
On Wednesday, the Software & Information Industry Assocation released its new version, featuring MC Double Def DP (Digital Protector) on "Don't Copy That 2." The organization is hoping the mix of humor and rap will help warn against common copyright piracy practices, such as burning CDs of pirated software.
"Floppies may be gone, but software piracy is unfortunately thriving in the digital age," said SIIA president Ken Wasch. "SIIA is proud to produce a video that will educate the Internet generation and draw attention to the very serious consequences of pirating software, content, games and other copyrighted works."
Though the U.S. has the lowest software piracy rates in the world at 20%, the country still lost $9.1 billion in 2008, according to a study released by the Business Software Alliance and IDC, an IT research firm.
Most of the video is more hysterical than intimidating -- such as SWAT teams pulling "yo momma" out of the kitchen with her pasta bowl and arresting her for piracy -- but it ends on a serious note. Convicted software pirate Jeremiah Mondello makes a cameo appearance at the end.
Mondello drives home the video's "It's not just a copy, it's a crime" slogan when he tells viewers from a federal prison in Oregon that he's serving four years for selling pirated software on the Internet and will forever be labeled as a felon.
"We want to convince people that they don't want to be the next Jeremiah Mondello," said Keith Kupferschmid, SVP of Intellectual Property Policy & Enforcement for SIIA. "Everyone likes to get things for free and make money, and the Internet provides anonymity to do that illegally. But doing it makes you a criminal."
DP also reminds us that it also kills "a couple of careers." An IDC study predicts that lowering software piracy by 10 points could would create 600,000 additional new jobs worldwide over four years.
"Don't Copy That 2" is (legally) available on YouTube, SIIA's Web site and available for a free download as a podcast video or song on iTunes.
SIIA will release an extended video paired with lesson plans for schools and teachers early next year.

Features

These Fortune 100 employers have at least 350 openings each. What are they looking for in a new hire? More

It would be the world's second-biggest economy. See how big companies' sales stack up against GDP over the past decade. More