GM to sell stake in Europe's Opel
Canadian auto supplier and Russian bank to take over most of General Motors' core European brand.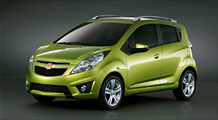 General Motors recently showed reporters and select members of the public what it plans to build over the next two years.
Find your next Car

NEW YORK (CNNMoney.com) -- General Motors has agreed to sell a major portion of its European Opel division to a consortium led by the Canadian auto supplier Magna, the automaker announced Thursday.
Under the plan, Magna, along with Russia's Sberbank, will take over 55% of Opel. Opel employees will own another 10%, leaving GM with just 35% of Adam Opel GmbH, an automaker GM has owned since 1929, except for a period during Germany's Nazi era.
Sberbank's share of the company will be transferred to the Russian automaker GAZ Group, said John Smith, GM's lead negotiator in this deal.
Sberbank is assisting GAZ with a restructuring plan and has acted as a "negotiating proxy" for GAZ in this deal, Smith said.
Former GM purchasing executive Bo Anderssen recently became president of GAZ. People familiar with the negotiations, but who asked not to be named because they are not authorized to speak to the media, said Anderssen was involved in negotiating the deal.
Spokespeople for Magna International and Sberbank have not yet responded to requests for comment on the proposed deal.
Opel, along with its closely related British sister-brand Vauxhall, is GM's largest-selling brand in Europe by far. Together, they represents more than 70% of GM's European sales.
Together, Opel and Vauxhall are the fourth-largest selling car brand in Europe after Volkswagen, Ford and Renault. Market share for Opel/Vauxhall has been slipping for the past several years, however.
GM's board of directors has been meeting for the past two days to discuss what to do with Opel as well as a host of other issues facing the newly restructured automaker.
The deal is expected to close by the end of November, Smith said in a conference call. He said there were no major hurdles remaining.
"I would describe it as garden variety work to be done between now and closing," he said.
Once a deal is finalized, several national governments as well the European Union, will need to sign off on it, he said.
GM has been involved in intense negotiations with Magna, the German government and with a private equity group that was also bidding separately for Opel. The German government has publicly been pressing for the Magna deal.
Second thoughts: With the global economy improving and GM's finances in better shape after going through bankruptcy, GM's board had been considering backing out of any deal to sell off part of Opel, according to various media reports.
"We thank all parties involved in the intensive process of the last few months -- especially the German government -- for their continued support that enables this new venture," GM Chief Executive Fritz Henderson said in a statement. "GM will continue to closely collaborate with Opel and Vauxhall to develop and produce more great cars, such as the new Insignia and the new Astra."
Earlier this year, the German government loaned Opel $2.1 billion to assist with completing the deal with Magna. Meanwhile, 65% of Opel's stock was transferred into a trust controlled jointly by representatives of GM and the German government.
The German government will provide an additional $4.5 billion in financing to carry Opel through a restructuring period under this deal, said John Smith, GM's lead negotiator for the deal. Other European governments with significant Opel operations will chip in to cover some of that amount, he said.
Magna and Sberbank will provide another $500 million, Smith said.
Opel, based in Russelsheim, Germany, employs 25,000 people in Germany and another 25,000 elsewhere.
The agreement will keep Opel a "a fully integrated part of GM's global product development organization," the GM statement said.
That has been a major concern for GM since Opel had become the main source of engineering for the automaker's small and mid-sized cars. Models such as the Chevrolet Malibu and the new Buick LaCrosse sedan share much of their engineering with Opel cars, as will several future models GM has planned for sale in the U.S. and other markets.
There are still issues to be worked out over the next few weeks, GM said in its statement, including additional financing from the German government and the agreement of labor unions to the deal.
"The definitive agreements should be ready to sign within a few weeks, with closing to follow within the next few months," GM said in its statement.
A number of national governments will also be taking a keen interest in the details of the transaction, said Mike Jackson, an industry analyst with CSM Worldwide. The U.S. government now owns a majority stake in GM, and the German government is deeply involved in the deal. The Russian government also will be interested, as will the governments of countries such as Great Britain and Poland with Opel or Vauxhall plants.
"Realistically, they want to allow an adequate time for clarity and scrutiny," Jackson said of the participants in the proposed deal.
Under the terms of the deal, Opel will be prevented from selling cars in several key markets where it could newly compete with GM's other brands. Opel will be kept out of this United States, China, South Korea and Canada for at least the next several years.
Technology from Opel and GM will be available for use by Russia's GAZ Group, Smith said, and GAZ, Opel and GM's Chevrolet brand could work together in that market. Chevrolet's European operations, including those in Russia market, are owned by GM Daewoo, a South Korea-based joint venture.
Both Sberbank and GAZ have close links to the Russian government and that relationship should help Opel, Smith said. Opel has not been a major player in Eastern Europe before now.
"I think Opel will do better in this deal because of the Russian government's and Sberbank's involvement," he said.

Features

These Fortune 100 employers have at least 350 openings each. What are they looking for in a new hire? More

It would be the world's second-biggest economy. See how big companies' sales stack up against GDP over the past decade. More