Madoff: Here's how to dodge SEC
In a taped phone conversation, the convicted swindler advised colleagues on how to sidestep questions from regulators.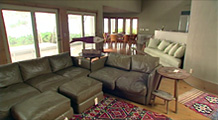 As the government prepares to put Bernie's Montauk home on the market, a U.S. Marshal gave the press a tour of the house. Here's what they saw.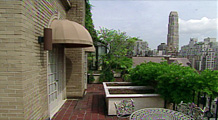 The New York City home where Bernard Madoff spent his last days has a buyer, reportedly at near the $8.9 million asking price. Take a peek inside.
ATLANTA (CNN) -- "Obviously, first of all, this conversation never took place ... OK?"
So began a phone call in which convicted swindler Bernard Madoff told colleagues how to dance around questions from the Securities and Exchange Commission, according to an audio tape and transcript released Wednesday by the Massachusetts secretary of state's office.
"You know, you don't have to be too brilliant with these guys, because you don't have to be," Madoff said, referring to SEC investigators.
Amit Vijayvergiya, chief risk officer of the Fairfield Greenwich Group, was included in the phone call, which occurred in December 2005, according to the company.
Fairfield Greenwich released a statement Thursday saying that it cooperated fully with the SEC and "completely ignored" Madoff's request to pretend as if the conversation never happened.
"[Fairfield Greenwich] executives told the SEC about the call and answered all questions accurately," read the release. "Any implication that the Madoff call affected Fairfield's responses to the SEC is demonstrably false."
"There is no suggestion or allegation that anyone at Fairfield Greenwich tried to mislead the SEC," the release added.
Authorities are continuing to unravel the far-reaching Ponzi scheme masterminded by Madoff, which bankrupted some once-wealthy investors and forced many nonprofit groups and foundations to shut down or make drastic cuts.
At one point, Madoff interrupted the conversation to take another phone call. He returned and said, "I'm sorry. If I get any more solicitations for charity, I'm going to kill myself."
Madoff, 71, was convicted of operating a Ponzi scheme and defrauding thousands of investors. He pleaded guilty and was sentenced to 150 years in prison in June. Prosecutors have said it was the largest investor fraud ever committed by a single person, totaling more than $50 billion in losses to investors.
Fairfield Greenwich Group reached an $8 million settlement this week with the Massachusetts Securities Division in connection with the Madoff scandal. State regulators sued Fairfield for misleading investors and acting as a feeder fund to Madoff's Ponzi scheme.
With the settlement, Massachusetts dropped fraud charges against the company.
Madoff cautioned his Fairfield associates not to know too much about how he was handling investments.
"You don't want to have that information because ... the commission, when they ask questions, they try and draw out information," Madoff said. "The less that you know how we execute ... the better you are."
Before running out of money in December 2008, Madoff sent statements to victims, claiming that their investments had grown several times over. In actuality, he had stolen, not invested, their money. Investigators think he ran the scam since at least the 1980s.
In the phone conversation with Fairfield, Madoff said he called the shots at his company.
"I'm the only one that can make the decision. ... I'm the only one that pulls the trigger."
Madoff advised taking a casual approach in dealing with the SEC. He said, if asked, Fairfield executives should minimize the ties between the companies and not volunteer answers.
"They ask you a zillion different questions and we look at them sometimes and we laugh, and we say, 'Are you guys writing a book?'"
-- CNN's Ed Payne contributed to this report.

Features

These Fortune 100 employers have at least 350 openings each. What are they looking for in a new hire? More

It would be the world's second-biggest economy. See how big companies' sales stack up against GDP over the past decade. More