Why Ford could be out of gas
Ford's stock soared as it gained share against GM, Chrysler and Toyota earlier this year. But analysts worry the run is near an end -- even if profits return soon.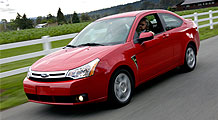 These are the most popular cars purchased under the Cash for Clunkers program.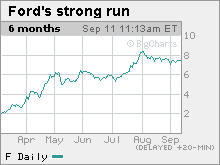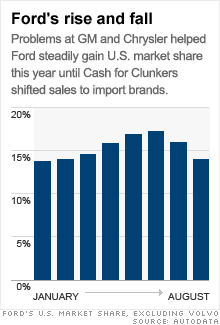 NEW YORK (CNNMoney.com) -- Have you invested in Ford lately? A lot of investors have.
The stock of the only U.S. automaker not to file for bankruptcy this year has shot up like a rocket in the past few months, rising 376% from its February low.
Still, there are significant doubts about how much higher the shares could go. Analysts surveyed by Thomson Reuters have a 12-month target price of $8, only 6% above Thursday's closing price.
"There's definitely risks to the Ford story. They're not out of the woods yet," said Efraim Levy, auto equity analyst for Standard & Poor's. "Relative to General Motors and Chrysler, they're benefiting from newer products and preference by some consumers to avoid companies that needed to be bailed out. But how much longer does the good news of market share gains continue?"
Ford (F, Fortune 500) posted steady gains in U.S. market share through June, moving back in front of Toyota (TM) in first-half sales and closing half of the gap on long-time rival General Motors.
Even when buyers turned more to import brands in July due to the Cash for Clunkers program that rewarded buyers of more fuel efficient vehicles, Ford also enjoyed some success. Its Focus compact, Fusion sedan and Escape SUV were among the top sellers under the program.
Those strong sales allowed Ford to post a year-over-year gain in U.S. sales in July, a benchmark it repeated in August. Most analysts believe the momentum to continue. Its pipeline of new models is widely considered one of the best in the industry.
"Their core portfolio is good, in terms of being fresh, competitive and a value for the money," said Tom Libby, president of the Society of Automotive Analysts.
And according to Thomson Reuters, Ford is expected to end its string of losses -- which date back to 2005 -- next year.
But Levy is worried that strong Clunkers sales could hurt results in coming months because buyers may have moved ahead their purchase plans to take advantage of Clunker deals. He thinks Ford will lose money again in 2010.
Libby is also worried that Ford's best results before the Clunkers program will be tough to match now that GM and Chrysler are no longer in bankruptcy. He said that Ford won't get back to the 17% share of the market that it enjoyed in June anytime soon.
That's important because Rod Lache, auto analyst with Deutsche Bank, said that "market share appears to be the key question for investors." He said his $8 target price for Ford shares assumes a 16% share, a bit better than its 15.2% year-to-date share. He said each percentage point drop from 16% would lower his target price by about $1.40.
Beyond the questions of market share, there's also worries that what served Ford so well through the crisis -- a large pool of borrowed money on which to draw, will become a burden going forward.
Ford has about $26 billion in debt weighing on its balance sheet. At a conference for auto industry investors sponsored by Credit Suisse earlier this week, 82% of participants said they expect Ford to sell additional shares in order to reduce debt, a move that would dilute the holdings of current shareholders.
Joe Hinrichs, a Ford group vice president speaking at the conference, wouldn't speculate on such plans when asked about such a possibility at the conference, but he certainly wouldn't rule it out.
"We need to provide value for our shareholders while at the same time improving our balance sheet," he said.
Shelly Lombard, debt analyst for research firm Gimme Credit, said she believes that Ford will either sell shares or make a stock-for-debt swap offer to reduce debt, but she thinks it will be limited in scope.
"They probably need to pay down another $5 billion to $9 billion in debt, but they know they're not going to get that out of the markets," she said. "But what they've become very good at is chipping away a little at a time, taking what the capital markets will give them."
Ford ran up that debt in the past few years as it mortgaged much of its operations to raise cash to pay for its reorganization and downsizing of its North American operations.
That move was questioned at the time but in hindsight it was a huge win for Ford shareholders. It gave the company the cash it needed to weather the collapse in vehicle sales and frozen credit markets during the past year since and helped keep Ford out of bankruptcy. GM shareholders wound up with virtually worthless stock following its bankruptcy.
Still, the bankruptcy process and assistance from the government allowed GM and Chrysler to shed much of their debt far more cheaply. That leaves them with leaner balance sheets than Ford.
And that is one of the key competitive issues now hanging over the Ford stock, raising the question of whether staying out of bankruptcy actually proves to be good or bad in the long-run.
Talkback: Are you part of a Detroit-area family with a history of working in the auto industry? If so, Money magazine would like to speak with you for an upcoming personal finance story. Please e-mail details of your story and your contact information to gmannes@moneymail.com.

Features

These Fortune 100 employers have at least 350 openings each. What are they looking for in a new hire? More

It would be the world's second-biggest economy. See how big companies' sales stack up against GDP over the past decade. More