Tariff could flatten cheap tires from China
President Obama's tariff plan for Chinese tires could squeeze U.S. consumers, while forcing Goodyear and Cooper to import from elsewhere.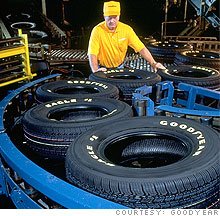 NEW YORK (CNNMoney.com) -- President Obama is increasing tariffs on Chinese-made tires, and that could put the squeeze on U.S. manufacturers overseas and cash-strapped consumers at home.
The U.S. imports 50 million tires from China every year -- more than one-fifth of all the tires sold in America -- and beginning Sept. 26, the tariffs on these tires will rise to 35%. And even though the rate would fall to 30% the following year and 25% the year after that, the increase could still spark a diplomatic spat between the two countries.
In fact, on Sunday -- just two days after Obama unveiled his tariff plan -- the Chinese government announced it was launching a probe into whether the U.S. was dumping auto parts and chickens into their market.
But China wouldn't be the only one affected by the tariff. It would also impact U.S. companies, such as Goodyear Tire & Rubber Co. (GT, Fortune 500) and Cooper Tire & Rubber Co., (CTB) which are both based in Ohio but have factories in China.
In fact, prices could jump by up to 30% over the next 60 days, according to Jim Mayfield, president of Del-Nat Tire Corp., an importer of Chinese tires based in Memphis, Tenn.
"China is a large supplier of tires in our brand," said Jim Mayfield, president of Del-Nat Tire Corp., an importer of Chinese tires based in Memphis, Tenn. "[The tariff] is certainly going to change our business very severely. It certainly will force us to find other sourcing from other counties, because the Chinese tires are going to be priced significantly higher than other tires on the marketplace."
He added that he does not have the option of switching to switching to U.S.-based manufacturers because they have been gradually pulling out of the industry since the 1990s.
The decline has gotten worse during the recession because out-of-work Americans are driving less. The Rubber Manufacturers Association expects tire shipments to drop by about 16% in 2009. Total tire shipments are expected to drop by 45 million units to 237 million. This is compared to an industry peak of 321 million tires in 2000.
"It's a very disappointing decision," said Roy Littlefield, executive director of the Tire Industry Association in Bowie, Md. "This is not going to bring a single job back into America. The companies that are manufacturing tires overseas are going to continue doing so. The manufacturers will simply reroute shipping, so instead of coming from China the tires will come in from Brazil and India."
"From a consumer angle, obviously these tires are going to cost more," he added.
Goodyear, Cooper and the consumer
The tariff's impact on Goodyear will be limited because only 2% of Goodyear's tires in the U.S. and Canada are imported from China, according to company spokesman Keith Price.
"We have limited exposure here to the types of products that are coming in from China," said Price. "We have a good many factories based there, but it's principally for domestic use there. We primarily sell our tires in the regions and countries where we manufacture them."
Price said that other companies that are more dependent on Chinese production can "move that production to other countries, which would bypass the tariffs in the U.S. The excess capacity from China is likely to flow to other regions of the world."
Cooper has a larger stake in this than Goodyear, because it makes 15% of its tires in China, according Anthony "Tony" Cristello, an analyst who tracks the company for BB&T Capital Markets.
"They're going to have to find another place to import those tires from," said Cristello. Though he added that Cooper might actually benefit from the tariff, because it "removes a layer of competition product," including Chinese tires that sell for as little as $25.
"The real loser in this is the consumer," he said. "That lower-priced tire from China is going to be effectively eliminated."
A Cooper spokesperson did not respond to phone messages.

Features

These Fortune 100 employers have at least 350 openings each. What are they looking for in a new hire? More

It would be the world's second-biggest economy. See how big companies' sales stack up against GDP over the past decade. More