Lehman lessons: 401(k) pain
The investment bank's demise wreaked havoc on 401(k) accounts last year. Gerri Willis explains what the crisis means for retirement savings going forward.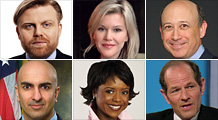 Would panic prevail? That was the question gripping the world in the days surrounding the fall of Lehman Brothers on Sept. 15, 2008. One year after that terrifying Monday, the people who struggled to cope with the financial crisis share what they were thinking as chaos broke out.
NEW YORK (CNN) -- Just one year ago, the world's financial sector was plunged into chaos and panic as Lehman Brothers -- one of the biggest investment banks -- collapsed. Consumers learned some hard lessons, including how to cope with substantial 401(k) losses.
A long term proposition. Jumping in and out of the market is a recipe for disaster.
In 2008, the average balance was down 28.3%, according to Hewitt Associates. And, only 11% of employees were able to break even or have moderate gains in their portfolios last year.
So far in 2009, the average balance is up 12%.
Put differently, the average balance went from $69,200 in 2007 to $50,200 by the end of 2008, according to Fidelity Investments. Right now, the average 401(k) balance is $53,900.
No place to hide. There is really no safe haven in investing. Asset allocation is important, but it only would have tempered losses.
Let's take a look at what type of mutual funds lost the most in 2008.
Domestic stock funds were down 39% according to Morningstar. International stock funds were down 46% and bond funds were down 8%.
Even target-date funds with a retirement date of 2010, which is the most conservative allocation, were down 22%.
But since the stock market hit bottom on March 9th of this year, many of these funds have rebounded.
Large cap stock funds are up 56%, international stock funds are up 72% and bond funds are up 14%.
Understand risk. The reason this crisis was so pervasive is that everything we thought was safe and secure was suddenly in question.
Fannie Mae (FNM, Fortune 500) and Freddie Mac (FRE, Fortune 500) bonds, which highly rated financial products, suddenly looked not-so-safe.
Money market mutual funds were touted as solid investments, suddenly they were "breaking the buck" -- forcing the government to intervene and prop up the market.
The bottom line is that you have to understand the kind of risk you take when you invest your money.
--CNN's Jen Haley contributed to this article
Talkback: how did you manage your 401(k) during the financial meltdown? Tell us and share your comments below.

Features

These Fortune 100 employers have at least 350 openings each. What are they looking for in a new hire? More

It would be the world's second-biggest economy. See how big companies' sales stack up against GDP over the past decade. More