The SEC gets neutered again
The rejection of a settlement with BofA over Merrill bonuses leaves the embattled agency exposed to more criticism. But BofA is hardly in the clear either.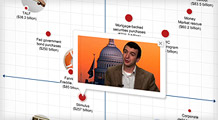 The collapse of Lehman led to a deeper recession and a litany of government programs to try to end the pain. We rate just how bold and effective the plans have been so far.
NEW YORK (CNNMoney.com) -- The outrage over big bonuses paid to Merrill Lynch employees is quickly becoming less a scandal for Bank of America and more of another black eye for Wall Street's top cop in Washington.
On Monday, a federal judge dealt the Securities and Exchange Commission its latest setback after rejecting a proposed $33 million penalty for the Charlotte, N.C.-based lender over the matter.
Regulators had hoped to bring a speedy resolution to the affair after it struck a settlement with Bank of America (BAC, Fortune 500) last month. The agreement would have effectively resolved one of the more high-profile corporate scandals of the past year.
U.S. District Court Judge Jed Rakoff, who has overseen the case, instead ordered the pair to head to trial starting in February, putting the SEC in a difficult legal position that some describe as having few attractive options.
By going to court, regulators would be pitted against a judge that has grown impatient with the agency.
It would also have little choice but to vigorously defend charges it first brought against BofA in August, namely that the firm lied on its proxy statement to shareholders about bonuses paid to Merrill employees in fiscal year 2008. And BofA is an opponent with very deep pockets.
"[Bank of America] will pay big dollars to get the best counsel and will use every procedure available to them to fashion various lines of defenses," said Dan Goldwasser, who heads the accounting-law practice at law firm Vedder Price.
Embarrassing time for SEC
Other options remain on the table for the SEC, including appealing the judge's ruling to a higher court or charging specific individuals, although such measures carry with them their own set of challenges, including extending the SEC's investigation.
What seems doubtful however is that the SEC would abandon the high-profile case altogether. That would only add another layer of humiliation to an already humbling affair.
"That strikes me as politically embarrassing for them," said Adam Pritchard, a securities law professor at the University of Michigan.
The past 12 months have been among the most trying periods for the SEC in its 75-year history.
Earlier this year, some legislators on Capitol Hill suggested that the SEC be merged with the Futures Trading Commission to regulate complicated financial products. Many experts have long argued that their consolidation would result in stronger oversight.
And of course, Bernard Madoff's $50 billion Ponzi scheme has brought no shortage of headaches to the organization either. Earlier this month, the SEC inspector general published a 450-page report charging that the agency overlooked missed 'numerous' red flags that suggested a Ponzi scheme was underway.
BofA not out of the woods yet
But the SEC isn't the only one with a lot at stake as it considers its next legal move. The prospect of a trial will do little to alleviate the intense scrutiny on Bank of America as a result of the Merrill bonus scandal.
Rakoff has already proven that he is willing to demand higher fines from companies that had previously settled with the SEC. In a case involving WorldCom, Rakoff was reluctant to let the bankrupt telecom giant escape without paying back some of its former shareholders.
After the parties were forced to renegotiate a $500 million settlement, Rakoff later signed off on a $750 million fine. In that ruling, he also demanded that stock in MCI, the new company that WorldCom emerged from bankruptcy as, be set aside for former WorldCom investors.
Bank of America shareholders could also be forced to somehow compensate shareholders for the Merrill bonus flap, said Nell Minow, the co-founder of the Corporate Library, a corporate governance research firm. However, she said that determining which shareholders would be eligible could prove tricky.
Minow also said it is unlikely that individual executives at either BofA or Merrill Lynch will be forced to pay any severe penalty as a result of the case.
"I don't think you are going to squeeze any money out of their wallets," she said.
Still, BofA has another potential legal headache. An ongoing investigation launched by New York Attorney General Andrew Cuomo revealed that Federal Reserve chairman Ben Bernanke allegedly asked former Treasury Secretary Henry Paulson to threaten BofA CEO Ken Lewis with a change in management should Bank of America pull out of its deal to buy Merrill.
That investigation subsequently prompted a separate probe by federal lawmakers as the House Committee on Oversight and Government Reform called all three men to testify on the matter earlier this summer.
Cuomo's office has yet to take action in its investigation, although it remains possible that formal charges could be brought against the company or its executives at some point in the future.

Features

These Fortune 100 employers have at least 350 openings each. What are they looking for in a new hire? More

It would be the world's second-biggest economy. See how big companies' sales stack up against GDP over the past decade. More