Foreign buyers avoiding U.S. homes
Almost half of international home buyers pay cash to dodge difficulty of securing a mortgage, survey finds.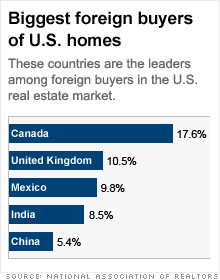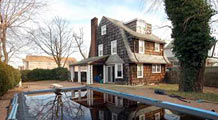 Here are the 5 metro areas where the average American family can afford to purchase a median-priced home -- and the 5 where they can't.
NEW YORK (CNNMoney.com) -- Despite record U.S. home price affordability, international buyers have been unable to take advantage because of the worldwide recession and credit crunch, a real estate group said Tuesday.
Home sales to foreign clients dropped 9.4% in the year ended in May to 154,000, according to a report from the National Association of Realtors (NAR).
Among international clients who did purchase, almost half paid cash for their property because securing a mortgage was more difficult than before, according to the report.
"It's at least three times more difficult for foreign buyers to get financing than it is for U.S. citizens who have all the right documentation and good credit," said Madison Hildebrand, a Coldwell Banker real estate agent in Malibu, Calif.
The NAR report says more than 30% of international home buyers use their U.S. property as vacation homes, and that triggers banks to assume they pose a higher risk, said Maria McKee, chairwoman of the Orlando International Real Estate Council.
"Banks are thinking people will walk away from their vacation home before they walk away from their primary residence," she said. "We'll continue to see interest from foreign investors, but a lot of them will be cash buyers."
But the NAR expects the latest improvements in the credit market to turn the tide.
"Stock market gains and improving bank balance sheets will permit a greater amount of lending for second home purchases," said NAR chief economist Lawrence Yun, adding that expending foreign economies and favorable exchange rates will give international buyers more purchasing power.
"American real estate has always been a good investment for a long- term hold," Hildebrand said. "It's relatively easy for internationals to hold real estate in the U.S. than in other countries where there are more caveats."
While Canada and the United Kingdom remain the largest international shareholders in U.S. real estate market, the NAR said buyers from those countries dwindled. The percentage of buyers from Mexico and India increased.
Foreign interest grew in California, a popular destination for Asian buyers, and the West Coast state accounted for 13% of international purchases, according to the report.

Features

These Fortune 100 employers have at least 350 openings each. What are they looking for in a new hire? More

It would be the world's second-biggest economy. See how big companies' sales stack up against GDP over the past decade. More