BofA board members subpoenaed
New York Attorney General wants to hear testimony of five Bank of America board members regarding the acquisition of Merrill Lynch.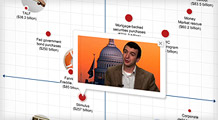 The collapse of Lehman led to a deeper recession and a litany of government programs to try to end the pain. We rate just how bold and effective the plans have been so far.
NEW YORK (CNNMoney.com) -- New York Attorney General Andrew Cuomo issued subpoenas to five Bank of America board members on Wednesday, as part of his investigation into the bank's purchase of Merrill Lynch a year ago, a source close to the investigation told CNN.
The names of the directors were not disclosed.
Cuomo's probe has so far revealed that Federal Reserve chairman Ben Bernanke allegedly asked former Treasury Secretary Henry Paulson to threaten Bank of America (BAC, Fortune 500) CEO Ken Lewis with a change in management should Bank of America pull out of its deal to buy Merrill.
BofA agreed to buy Merrill Lynch a year ago, just hours before Lehman Brothers filed for bankruptcy. The Charlotte, N.C.-based bank, which received $25 billion in bailout funds last fall, wound up needing another $20 billion in government aid to help it complete the Merrill deal.
Cuomo's office has yet to take action in its investigation, although it remains possible that formal charges could be brought against the company or its executives at some point in the next few weeks.
"We will continue to cooperate with the attorney general's office as we maintain that there is no basis for charges against either the company or individual members of the management team," a Bank of America spokesman said in an e-mailed statement.
In addition to questions about the regulators' roles in the merger, the board members will likely be asked to answer inquiries about how much they knew about billions of dollars in losses and bonus payments at Merrill before the deal was completed on Jan. 1.
Cuomo's investigation is the latest in a series of headaches for BofA related to the Merrill deal.
On Monday, U.S. District Court Judge Jed Rakoff rejected a proposed $33 million settlement between the Securities and Exchange Commission and BofA for misleading shareholders about $3.6 billion in Merrill bonuses.
A day after that, Congressmen Edolphus Towns (D-NY) and Dennis Kucinich (D-OH) announced that the House Oversight and Government Reform Committee will hold a hearing on September 30 to ask the heads of the SEC and FDIC about their role in the deal.
The hearing will be the fourth this year about the Merrill acquisition. Lewis, Paulson and Bernanke testified at the previous hearings.
-- CNN's Amy Sahba contributed to this report

Features

These Fortune 100 employers have at least 350 openings each. What are they looking for in a new hire? More

It would be the world's second-biggest economy. See how big companies' sales stack up against GDP over the past decade. More