Oracle sales stumble 7%
The business software maker says earnings rose in the company's first quarter even as sales fell 7%.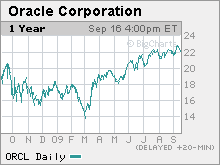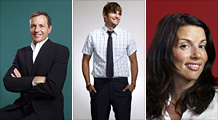 These tech-world luminaries - photographed during our recent Brainstorm Tech conference - aren't just changing the game; they've defined it. Photographs by Robyn Twomey.
NEW YORK (CNNMoney.com) -- Oracle shares fell sharply in after-hours trading Wednesday after the database software maker reported quarterly sales that missed Wall Street forecasts.
The company reported net income of $1.1 billion, or 22 cents per share, for the three months ended Aug. 31. That was up 8% from earnings of $1.07 billion, or 21 cents per share, a year earlier.
Excluding certain items, Oracle said it earned $1.5 billion, or 30 cents per share, which was up 3% from a year ago and in line with estimates from analysts surveyed by Thompson Reuters.
However, sales fell 7% to $5.1 billion in the quarter, missing analysts' expectations for $5.25 billion in revenue.
Sales of new software licenses, considered a gauge of software sales growth, sank 17% to $1 billion, while software license updates and product support revenues rose 6% to $3.1 billion.
Oracle also declared a cash dividend of 5 cents per share of outstanding common stock, which will be paid Nov. 4.
The drop in sales weighed on Oracle's stock price. Shares of the Redwood Shores, Calif.-based company fell nearly 6% in extended trading after closing $22.66.
Safra Catz, Oracle's president, said the company was able to increase profit despite weak sales by "substantially" improving its operating margins.
"Our operating model continues to drive earnings for our stockholders," she said in a statement.
Trip Chowdhry, an analyst who covers Oracle for Global Equities Research, said the company's results are relatively strong considering the economic backdrop.
"It's brutal out there," Chowdhry said. "IT budgets have not opened up and in that environment, Oracle is doing pretty well."
"The new licensing revenue decline is giving a false impression that the business is much worse than it truly is," Chowdhry said, adding that he thinks the stock price will recover based on Oracle's product pipeline and market share.
Looking ahead, Oracle said it expects adjusted earnings per share in the current quarter to be between 35 cents and 36 cents, up from 34 cents the year before.
Based on current foreign exchange rates, Oracle said it expects sales to rise 2% at best in the company's fiscal second quarter.
In April, Oracle (ORCL, Fortune 500) announced plans to buy Sun Microsystems, which makes the Java programming software language, for $7.4 billion dollars. The acquisition, Oracle's 52nd since Jan. 2005, could make the company a major player in the hardware market, which is dominated by IBM. (IBM, Fortune 500)
Larry Ellison, Oracle's chief executive, told analysts in a conference call that his company is "well positioned to compete against IBM."
But the deal with Sun is being held up by European antitrust regulators, who are concerned about Sun's MySQL open-source database, which could compete with some of Oracle's products.
Oracle did not provide an update on the status of the Sun purchase.

Features

These Fortune 100 employers have at least 350 openings each. What are they looking for in a new hire? More

It would be the world's second-biggest economy. See how big companies' sales stack up against GDP over the past decade. More