Oil prices dip slightly
Crude prices mirror a back-and-forth day in the stock market.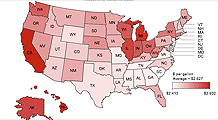 Prices at the pump can vary widely among states due to a number of factors.
More
NEW YORK (CNNMoney.com) -- Oil prices fell slightly Thursday as stocks slipped, after gaining more than 5% earlier this week.
Crude for October delivery settled down 4 cents to $72.47 a barrel, after posting slight gains in midday trading when stocks touched fresh one-year highs.
"Crude oil prices have been in lockstep with the equity markets," said Chris Lafakis, an economist who specializes in energy issues at Moody's Economy.com. He added that the waning greenback, which hit a one-year low against the euro Thursday, has also played a role.
Moody's Economy.com notes that crude prices have more than doubled since December, and have tracked equities closely since stocks bottomed in March.
After hitting a 12-year low in March, the Dow industrials have gained almost 50% and the S&P 500 has gained 58%, as of Wednesday's close. Since bottoming at a six-year low, the Nasdaq has risen 68%.
"The fundamentals of the market haven't been as important as investors' sentiment and their expectations about the strength and sustainability of a recovery," said Lafakis. "[That attitude] isn't sustainable, but it has been going on for months.
Even OPEC ministers are at a loss, Lafakis said. Even though the oil ministry has cut supplies aggressively, global crude oil production is still outpacing consumption. Despite this, oil prices are still rebounding.
"The ministers are surprised but they're thinking, 'We don't have to bring down inventories to increase prices because investors are already willing to pay the price.'"
Based on market fundamentals, Economy.com forecasts crude oil to average $67.23 a barrel during the last quarter this year. If the U.S. and world economies continue to grow as the fiscal stimulus is withdrawn, oil prices will gradually strengthen through next year as recovery takes hold, reaching $83.81 by the last quarter of 2010.
And Lafakis thinks prices could rise even faster than Economy.com's predictions if stocks continue their rise.
"Confidence begets confidence," he said.
Gasoline prices. The national average price for a gallon of regular unleaded gas decreased to $2.550, down 0.6 cent from the previous day's price of $2.556, according to motorist group AAA.
This is the sixth consecutive day the price of gas has declined in the AAA survey.

Features

These Fortune 100 employers have at least 350 openings each. What are they looking for in a new hire? More

It would be the world's second-biggest economy. See how big companies' sales stack up against GDP over the past decade. More