Americans are $2 trillion wealthier
Soaring stock market boosts household net worth for the first time since the fall of 2007. Real estate holdings rise in value too.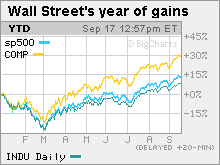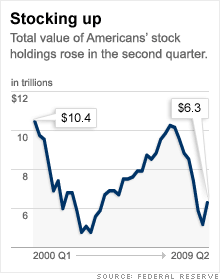 NEW YORK (CNNMoney.com) -- Finally!
After nearly two years of declines, the net worth of Americans rose by $2 trillion to an estimated $53.1 trillion in the second quarter compared with the first three months of the year.
The soaring stock market accounted for much of the gain. Stock holdings rose by 22% to $6.3 trillion, while mutual funds' value jumped 15% to $3.7 trillion, according to a Federal Reserve report released Thursday.
To be sure, these are not exactly flush times for many people. Unemployment stands at 9.7%, the highest level in 26 years. And many people have yet to see their home values and portfolios recover from their recent trouncing.
Since only half of Americans own stocks, with even fewer having significant holdings, only a narrow group of people benefited from Wall Street's springtime gains. The Dow Jones industrial average and the Nasdaq had their best performances since 2003 and the broader S&P 500 since 1998.
Homeowners, who make up about two-thirds of the population, also saw a little relief. Real estate rose in value for the first time since the end of 2006, climbing 2% to $18.3 trillion.
Still, Americans have a long way to go before they recover the wealth they once had. U.S. net worth peaked at $65.3 trillion in the third quarter of 2007. That's 18.7% higher than the current level.
Much of the nation's wealth had been tied to the recent booms in the housing market and on Wall Street. At the end of 2006, Americans' homes were valued at nearly $22 trillion.
And in the following year, their stock holdings topped out at $10.2 trillion and their mutual fund portfolio at $4.9 trillion.
Thursday's report is not likely to prompt consumers to resume spending, said Scott Hoyt, senior director of consumer economics at Moody's Economy.com. Wealth is still down $12 trillion from its peak and many people may see the recent increase as a blip.
"Consumers are still focused on how much wealth they've lost," Hoyt said. "They still likely see themselves in a good-size hole."
Less debt
At the same time, consumers continue to pay off their bills. Household debt shrunk by an annual rate of 1.7% in the second quarter, the fourth consecutive decline. Debt loads had never contracted until the current downturn.
Businesses are also pulling back on the debt they carry. Debt contracted at an annual rate of 1.8%, the second decline in a row.
Governments, however, are loading up on debt as they try to prop up the economy. Federal government debt ballooned 28.2%, the fourth straight increase, while state and local governments increased their debt levels by 8.3%.

Features

These Fortune 100 employers have at least 350 openings each. What are they looking for in a new hire? More

It would be the world's second-biggest economy. See how big companies' sales stack up against GDP over the past decade. More