Crisis dodged: No shutdown for Philadelphia
City won't have to close libraries and court system after state lawmakers allow it to raise sales taxes and defer pension payments.
Map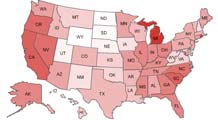 NEW YORK (CNNMoney.com) -- Disaster averted.
Philadelphia will not have to impose draconian budget cuts that would have closed its libraries, playgrounds and court system, as well as laid off 3,000 public employees.
State lawmakers on Thursday approved the city's request to raise its sales tax by 1 percentage point and defer pension payments in order to balance its budget. Gov. Edward Rendell is expected to sign the measure.
"All of the devastating consequences of Plan C will be avoided," said Mayor Michael Nutter, referring to his emergency proposal.
The mayor was set to start sending out pink slips on Friday and had already announced the service changes would begin Oct. 2.
Philadelphians, however, will not escape unscathed. They will now pay an 8% sales tax, as well as deal with city services reduced in prior budget cuts.
The city first started cutting services in November, when the mayor announced Philadelphia was facing a $108 million deficit for the fiscal year, which ended June 30. Officials had to slice into the $4 billion budget, requiring non-union city workers to take furlough days, suspending scheduled business and wage tax cuts, removing equipment from some fire stations, reducing police overtime and cutting 800 mostly vacant positions.
Philadelphia closed another $1.4 billion hole in its five-year spending plan this spring in part by raising fees and eliminating another 250 positions.

Features

These Fortune 100 employers have at least 350 openings each. What are they looking for in a new hire? More

It would be the world's second-biggest economy. See how big companies' sales stack up against GDP over the past decade. More