Google, Yahoo in display ad showdown
Google's new DoubleClick ad exchange allows display advertisers to more easily target Internet users, which could challenge Yahoo's dominance.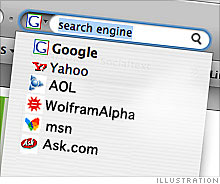 NEW YORK (CNNMoney.com) -- In a challenge to Yahoo's display ad dominance, Google unveiled a new technology aimed at making advertising easier for marketers.
Called the DoubleClick Ad Exchange, Google's new system simplifies and improves how advertisers put display ads onto Web sites. Like Google's previous ad exchange, the new one allows advertisers and Web site publishers to buy and sell ad space. But the company says the new system gives advertisers much more control over who sees their ads, and where and when they are displayed.
Google (GOOG, Fortune 500) has been the search advertising leader for years, but it makes the vast majority of its revenue on what are called relevant text ads or those ads that appear next to search results on Google and its partner Web sites. Rival Yahoo (YHOO, Fortune 500), on the other hand, has led the display advertising universe, which controls the banners and colorful ads consumers see on the Internet.
Google's goal is "to simplify the system for buying and selling display ads, to deliver better performance that advertisers can measure, and to open up the ecosystem for all," said Neal Mohan, Google's vice president for product development.
The new and improved ad exchange comes at a good time for the company. Text ads, Google's bread and butter, are flatlining as the market has become saturated with the punchy and cheap ads. Google has tried to expand its display ad operation, acquiring DoubleClick in the first quarter of last year, but it has been unable to make much headway.
Overall, Google is the clear search leader, maintaining a 64.7% share of the search market, according to data tracker comScore. Yahoo holds just 19.3% of the overall market.
What is an ad exchange? A typical ad exchange allows advertisers to automatically bid on ad space as soon as an Internet user clicks on a site. The Web publisher accepts the highest bid, and the ad is instantly displayed for the user. Since the process is all automated, the bidding happens in a fraction of a second.
Google's new exchange improves upon an element that allows advertisers to target audiences by weighing a series of factors. Web site publishers typically send information about who is viewing their site based on a user's traffic history. The new exchange asks advertisers questions about who they are targeting, giving the advertiser the ability to automatically bid on the ad space depending on whether a user fits a particular set of criteria.
Another new feature will open the DoubleClick exchange to the hundreds of thousands of users of AdWords and AdSense. Those users -- Web site publishers and advertisers -- will be able to bid to sell their ads and space on the new display exchange.
Unlikely to unseat Yahoo. Analysts say Google's improvements could help it give Yahoo a run for its money, but a coup is unlikely anytime soon.
"Google has a lot to bring to the table in terms of simplifying the process and adding more transparency around search results," said Matthew Egol, partner in the consumer media and digital team at management consultancy Booz & Co. "Google makes it easier to buy and sell ads than Yahoo, but Yahoo also offers a large scale volume of traffic that can also be branded."
Egol said Google will attract more advertisers who want to drive more click traffic.
But the new technology doesn't solve the reason Google has been slow to take off in display. The company has been mostly focused on the number of clicks ads get, but not on a brand's particular strategy. While Yahoo also offers an ad exchange, it is far better at helping premium advertisers develop a marketing strategy, he argued.
In July, Yahoo agreed to sell its search technology to Microsoft (MSFT, Fortune 500) in exchange for a revenue exchange and Yahoo's exclusive right to solicit premium advertisers for both companies.

Features

These Fortune 100 employers have at least 350 openings each. What are they looking for in a new hire? More

It would be the world's second-biggest economy. See how big companies' sales stack up against GDP over the past decade. More