GM's Lutz: Now the gloves are off
Expect the direct approach as Bob Lutz takes on his new role overseeing marketing and design at the new GM.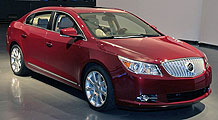 GM is launching a slate of new products. Can they give a lift to the auto giant as it enters a new era?
NEW YORK (CNNMoney.com) -- General Motor's Vice-Chairman Bob Lutz is back and he's ready for a fight.
Having reversed his earlier to decision to resign rather than work for what he feared would be a government-run company, Lutz, a famously straight talker, promises to take on competitors shot for shot as the carmaker's marketing head.
"I am very much in favor of blunt talk," said Lutz.
No more Mr. Nice Guy. Lutz says he intends to challenge the competition with messages like, "The Chevrolet Equinox has the highest highway fuel economy of any crossover SUV on the market" or "The Cadillac CTS-V is the best performing luxury sedan in the world."
"We've been too reticent to take the gloves off," Lutz said.
Expect fewer ads showing lovely shots of attractive young people driving cars down impossibly empty country roads.
Lutz points to Lee Iacocca, the iconic former Chrysler chief with whom he worked -- and clashed -- during 12 years at Chrysler in the 1980s and '90s, as providing a model for how the direct approach can change minds.
Lutz didn't say he was about to turn pitchman, but Iacocca's famous line, "If you can find a better car, buy it," strikes the tone Lutz wants.
Iacocca's stark challenge forced Americans to reconsider Chrysler products and helped bring that carmaker back from a near-bankruptcy, avoided only with government loan guarantees, in the early 1980s.
A renewed confidence. During a half-hour interview with CNNMoney.com, Lutz was just as blunt about his feelings and fears regarding GM's brush with bankruptcy, which he said was ultimately the best thing that could have happened.
"I was a little demoralized around February or March," he said.
That was when Lutz announced his intent to retire as vice-chairman and head of product development. He was sure the government would take over GM and run it according to a political playbook, he said, and he wanted no part in it.
Products like the new Chevrolet Camaro muscle car, which is now selling faster than the factory can make them, and the Corvette, which remains an iconic car for GM, would have been shoved aside, he feared, because they lack the "green" image politicians and the media like to see.
As it turned out, Lutz said, he was pleasantly surprised when he met with the government's auto task force. Their focus was on making the business healthy, he said, not on turning GM into a laboratory for high-mileage but low-profit "green cars."
"There was no 'We want to see your hybrid line-up' and stuff like that," he said, "None of that."
The government-run bankruptcy has left the company leaner, stronger and more competitive than it's been in decades, he said. He called GM's emergence from bankruptcy after 40 days "like having died and being re-born." The carmaker was suddenly shorn of much of its once-crippling debt, unprofitable car bands and excess dealers network.
"This was the only way that we could correct 30 or 40 years worth of decline," he said, "Much of it was our own doing."
Lutz doesn't let GM's past leadership take all the blame, though. Government policies that favored Japanese imports, making their products impossibly cheap compared to domestic cars, also did a lot of damage, he said. American carmakers were forced to compete by cutting corners and cheapening their own products.
While Lutz expressed relief that the government didn't ask about GM's "hybrid line-up," the carmaker does, in fact, have hybrid vehicles and there are plans for more. A plug-in hybrid small SUV is in the works and a source within GM recently confirmed that a hybrid-only car, something to compete with the Toyota Prius and Honda Insight, is in the carmaker's longer-term plans as well.
The carmaker's environmental showpiece, the Chevrolet Volt, a plug-in car that's scheduled to go on sale next year, was created largely at Lutz's insistence.
But Lutz made it clear that this "green car" stuff can't be allowed to get out of hand. The simple fact is that, especially with gas prices well under $3 a gallon, there is even less demand than usual for hybrid cars, which sell in small numbers and are unprofitable even with relatively high gas prices.
"There's about 5% to 10% of the customer base in the U.S. that desperately wants a hybrid," he said.
The rest just want the best possible vehicle they can afford to pay for and fuel.
They also want great design, Lutz said, and that's something he also oversees in his newly created role. Design has become a strong point for GM in recent years, with critics and buyers praising handsome new cars like the Cadillac CTS, Buick Enclave and Chevrolet Malibu.
While GM quality is now competitive, or better than the competitive, in every respect, Lutz said, the products need the added pull of striking design to make sure customers take notice. Otherwise, they're not going to take a chance on a GM car.
During his time at GM, Lutz made a mission of elevating design to a primary, rather than secondary, consideration. There's still more work to be done, though, in reworking a culture that spreads responsibility too thinly, he said.
"It's unbelievably consensus driven," he said, "and there's lots of delegation and a lot of arguing, but very nice arguing."
"Less consensus means clearer, more consistent vision," he said, "and quicker decisions," when it comes to almost everything the public can see, hear and touch from GM. For now, that vision will come from Lutz.