AIG bailout 'significant' taxpayer risk
Troubled insurer is showing signs of stability, according to a bailout overseer's report, but taxpayers' enormous investment still carries a heavy risk.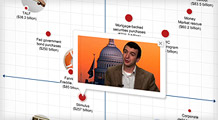 The collapse of Lehman led to a deeper recession and a litany of government programs to try to end the pain. We rate just how bold and effective the plans have been so far.
NEW YORK (CNNMoney.com) -- AIG has stabilized thanks to a massive government bailout, but more than $120 billion in taxpayer loans to the insurance company remain at risk, according to a report issued Monday by a bailout overseer.
The Government Accountability Office, which oversees Treasury's $700 billion Troubled Asset Relief Program, said the government's efforts to support AIG (AIG, Fortune 500) have largely succeeded in propping up the company. But AIG continues to rely heavily on federal assistance to maintain that stability.
The GAO said Federal Reserve loans and Treasury Department investments continue to be AIG's primary source of credit. Similarly, the company's steady credit rating, recent profitable quarter and adequate capital levels would not have occurred without taxpayer assistance.
Continued government support will be necessary until AIG can restructure its operations. But that government assistance carries "significant exposure" to credit and investment risks, given taxpayers' enormous loans and 79.9% interest in AIG, according to the report.
Some AIG operations, including the company's core insurance business, are showing signs of strength. Still, GAO said it is too soon to determine if the insurer's stability is a trend or simply an anomaly. Until AIG can demonstrate stability over the long haul, it will be unable to pay its loans back.
AIG plans to pay back the government by selling off pieces of the company. Those asset sales have been slow-going and sold at depressed values thus far, as credit remains tight. AIG has made only $8.6 billion on those deals to date, and has paid back just $1.4 billion on the roughly $38 billion Fed loan. AIG has paid back $6.8 billion of a separate $35 billion New York Fed loan and has not paid any of its TARP loan back.
The insurer still owes taxpayers $120.6 billion, according to the report. Since the company does not make enough profit to repay its loans, AIG has agreed to sell off two huge chunks of its business to the Fed to reduce its debt to taxpayers by $25 billion.
Oversight Committee to review Greenberg proposal
Meanwhile on Monday, House Oversight Committee Chairman Edolphus Towns, D-N.Y., said he is looking into a proposal by former AIG Chief Executive Hank Greenberg to slash the government's stake in AIG to about 20%, scale back the interest rates AIG is paying on its the loans, and lengthen the term of the insurer's loan to give AIG sufficient time to get better value from its asset sales.
Greenberg, who was chief executive of AIG from 1968 until 2005, has long argued that the government needs to give AIG a less onerous bailout in order to reduce risk and maximize the potential benefit for the taxpayers. Greenberg was not immediately available for comment.
Shares soared on the news, gaining 21% in late afternoon trading on Monday. Shares have risen 275% since the beginning of August, when the company announced it would appoint former MetLife CEO Robert Benmosche as its new chief executive.
The stock has risen despite repeated statements from the company that it won't likely be able to repay the government in full for three to five years.
A spokesman for AIG said Monday that the insurer continues to work with government regulators and overseers to ensure taxpayer money is being put to good use.
"We are pleased to have had the chance to work closely with the GAO in its efforts to produce a thoughtful and comprehensive report," said Mark Herr. "AIG remains committed to reducing risk and repaying taxpayers."

Features

These Fortune 100 employers have at least 350 openings each. What are they looking for in a new hire? More

It would be the world's second-biggest economy. See how big companies' sales stack up against GDP over the past decade. More