Can 'new' GM succeed where old GM failed?
The battered automaker is in much better shape than when it filed for bankruptcy. But it could quickly be tripped up by the challenges ahead.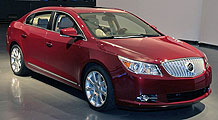 GM is launching a slate of new products. Can they give a lift to the auto giant as it enters a new era?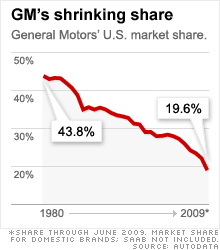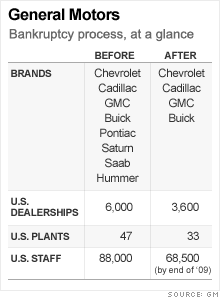 NEW YORK (CNNMoney.com) -- General Motors' rapid trip through bankruptcy is done. Now comes the hard part.
To start, the automaker has to stem a decades-long slide in U.S. market share.
Despite having made significant progress closing the labor cost gap, GM still faces significant costs, such as those for underfunded pension plans, not faced by its nonunion Asia rivals.
It also needs to turn around consumer opinions about the quality and fuel efficiency of its vehicles, and meet tough new fuel economy requirements.
And on top of all that, it has to hope that the U.S. economy turns around and that the overall industry starts to recover.
Any one of those obstacles would be difficult for a company that has been as weakened as GM (GMGMQ). The need to do all of them is one reason why there are many in the industry who still doubt its long-term viability, despite all it did to shed tens of billions in liabilities, along with unwanted factories, dealerships and brands, during bankruptcy.
"They're coming out with a clean balance sheet and new cost structure. But they're going to continue to struggle in the short to medium term, particularly with the U.S. market," said Stephen Spivey, senior auto analyst for business consultant Frost & Sullivan. "It's way too early to say if they've done enough in bankruptcy."
GM CEO Fritz Henderson insists that the company has the cost structure and a new focus it needs to be competitive and too succeed again. He said GM management will have the time it needs to focus on the customers and products the way they need to. He and the company's new chairman, Ed Whitacre, insisted the company will be success going forward.
"For 100 years GM was among the world's greatest companies. It will be again," said Whitacre. "I agreed to take this job because I think most Americans want this company to succeed."
But even Whitacre cautioned, "There's still a lot of work to be done to get GM where it needs to be."
Market share declines
Even experts hopeful that the new GM will be competitive admit the company needs to stop the long-term decline in market share. A decade ago, GM sold 29% of all vehicles sold in the United States; today it's less than 20%.
"The share loss isn't going to stop overnight, but it has to stop at some point for the company to be truly viable," said Steve Rattner, the Treasury Department's chief adviser on the bailouts of GM and Chrysler Group. "GM has to be competitive in the U.S. market for this plan to work."
While Rattner and Henderson argue that GM does have good cars in the pipeline, not everyone is so confident.
"Can they put out less products but more successful products? The jury will still be out on that for a couple of years at least," said Bob Schulz, Standard & Poor's senior auto credit analyst. "A product pipeline doesn't turn on a dime."
Others are more confident of GM's plans, including a new small car due next year -- the Chevrolet Cruze -- and the plug-in Chevy Volt later in the year.
"Their product portfolio in my opinion was on a good trajectory," said Michael Robinet, vice president of global vehicle forecasts for auto consultant CSM Worldwide.
But even the Malibu sedan, a critical success that won car of the year honors a year ago, still badly lags the Toyota Camry and Honda Accord in sales. That just demonstrates the problem with turning around GM sales.
"Everybody acknowledges that the Malibu is a superior product, but you can't just jump from 150,000 sales to 400,000 overnight," said Tom Libby, president of the Society of Automotive Analysts.
Labor costs
The United Auto Workers union gave GM and Detroit rivals Ford Motor (F, Fortune 500) and Chrysler Group tremendous cost savings in recent contracts. The union agreed to a two-tier wage structure for new hires. It also eliminated a jobs bank that continued to pay laid off workers during the life of a contract.
Most importantly the UAW agreed to a plan to shift responsibility for retiree health care costs away from the companies to union-controlled trust funds. And it then allowed GM and Chrysler to essentially fund those trust funds with company stock rather than cash.
Henderson insisted Friday that GM's labor costs are now in line with those of nonunion Asian rivals' U.S. plants.
But the gap GM suffers in labor costs with its nonunion rivals, while greatly reduced, is not forgotten. Health care costs for active employees are still significantly higher than at the U.S. plants of Asian automakers, which have younger workforces, let alone overseas auto plants where the governments pay for health care.
And GM still has obligations for U.S. pension plans that are now underfunded, mostly because the company repeatedly used plan assets to pay for buyout packages for tens of thousands of workers as it slashed staffing in recent years.
The pension plans were underfunded by $13.6 billion at the end of 2008, a gap that may well have grown with some additional buyouts since then.
Many times a company in bankruptcy can save a lot of money by shedding its pension obligations as well, passing them off to the federal Pension Benefit Guarantee Corp. Such a move by either GM or Chrysler would have prompted a battle with the UAW. And the Obama administration, whose funding was keeping both companies alive, didn't want to go down that path.
While GM said it doesn't anticipate needing to make contributions to the plans soon, future funding needs could cause problems down the road. It was a pension shortfall that caused GM to sell many of the $27 billion in unsecured bonds that it used the bankruptcy process to shed.
"Maybe it's the third rail nobody wants to touch, but it's the key to these companies being healthy long-term," said Jeffrey Manning, managing director of investment bank Trenwith Securities LLP, specializing in bankruptcy and restructuring. "You've left these anchors on both of these businesses."
Other challenges
Market share losses aren't the only problem dogging GM. There's the recession, rising unemployment and continued tight credit.
CSM's forecast for new vehicle sales calls for 2009 U.S. industrywide sales to come in below 10 million vehicles; that would be the worst sales performance in decades. And it projects sales of barely more than 11 million next year.
GM and Treasury officials insist the cost-cutting will allow the company to break even at those depressed sales levels. But that will be difficult to do, and a strong rebound in profits isn't likely.
Even before the plunge in auto sales, high gas prices had caused American consumers to start to shun pickup trucks and SUVs -- GM's strength, and its source of profits back when it was making money -- for sedans and smaller cars instead. In 2008, cars outsold light trucks for the first time since 2000. That has been the case this year as well, even with lower sales.
"The key for everybody, not just GM, is to consistently make money on the sale of small cars in the U.S. market," said CSM's Robinet. "That's a tall order, particularly for the U.S. automakers.
And if GM does produce a stronger line of competitive fuel efficient vehicles, it will be harder for the company because of the long-held perception that it is primarily a pickup and SUV maker, said Jesse Toprak, an auto sales analyst with Edmunds.com.
"Even if GM had the same portfolio mix as Honda, GM would be at a disadvantage simply because of this perception problem," he said.
Finally, even if fuel prices don't rebound to the record $4 a gallon level of a year ago, tougher fuel economy standards being imposed by the Obama administration will require average fuel efficiency of 35.5 miles per gallon.
"Long term, the [fuel economy rules] do move the industry in the direction of Toyota (TM) and Honda (HMC)," said Libby.