Do insurers meddle in your medical care?
Some frustrated physicians complain of 'hassles' from insurance companies, but others say they could help doctors practice better medicine.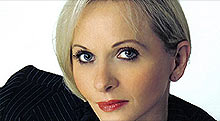 The U.S. health care system is struggling with a shortage of primary care physicians. CNNMoney.com asked readers -- especially those who are medical professionals -- to weigh in on who can help solve the problem. Here are some responses:
NEW YORK (CNNMoney.com) -- Have you ever wondered why your doctor has you come back two or three times to complete a check-up instead of wrapping it up in one visit?
Doctors candidly admit that it's about money. And they blame insurers for "conditioning" them to practice medicine this way, meaning less efficiently than they believe they should.
Dr. Ted Epperly, a family physician based in Boise, Idaho, explained that if multiple services are administered to a patient on the same day, insurers often won't reimburse doctors for each separate treatment.
"Suppose I surgically remove a mole from a patient and I schedule a follow-up visit," said Epperly, who is also president of the American Academy of Family Physicians. "During the follow-up visit, if I also check and treat the patient for hypertension, those are two different services."
His concern is that insurance companies won't reimburse him for the two different services because he provided them to his patient during the same office visit.
Doctors don't think this is fair. While some are eating the cost of additional services rendered to patients, others are having patients come back repeatedly so they can be adequately reimbursed.
Dr. Yul Ejnes, an internist based in Cranston, R.I., said this example typifies how insurers are increasingly influencing how doctors practice medicine.
"There's no question that payers are creating hassles and barriers to doctors," said Ejnes. "There are so many rules for us that just make no sense."
For example, Ejnes said Medicare covers a yearly prostate exam but won't reimburse doctors for another service, such as a blood pressure check, that is done on the same patient on the same day.
Asked Ejnes, "Should I have the patient come back just to check his blood pressure so I can get paid for it?"
Doctor-insurer tension at a crisis point?
Although the tension between doctors and insurers is decades old, Epperly believes it is reaching a crisis point. "This is why the debate on health care reform is gaining steam around insurance reform," he said.
"Doctors are fed up with the administrative hassles and other obstacles to getting reimbursed," he said.
Dr. David Chin, managing partner of consulting firm PricewaterhouseCoopers' Global Healthcare Research Institute, said the doctor-insurer standoff has been going on since the advent of managed care in the United States in the mid-1980s.
"Now the pressure is on insurance companies to improve the quality of care while bringing down their own costs," said Chin
Paul Keckley, a health care economist and executive director of Deloitte Center for Health Solutions, explained that doctors hold a unique position in the debate over health care reform.
"The tests, medications, procedures that doctors prescribe are largely responsible for driving up health care costs," Keckley said, adding that very little of the rising inflation in health care costs is consumer driven.
"[Doctors] are the most trusted source for determining the appropriateness of care," he said. Yet, many doctors are also not good business people and the concept of comparing "what [treatment] works better for less, and why, is beyond the grasp of many doctors," he said.
To this end, Chin said insurers do provide some checks and balances to doctors which can help them provide better care at lower costs. "If the information that insurers provide is used well, it can help doctors practice better medicine," he said.
Yet doctors are offended when insurers point to certain evidence-based data from medical societies suggesting there could be a "better" and more cost-effective way to treat a patient.
Chin said this struggle -- between a physician's clinical judgment and insurers' focus on evidence-based medicine -- remains a sticking point.
Insurers defend their guidelines.
"We have worked hard to establish a level of trust and respect with health care professionals," said Wendy Morphew, a spokeswoman for Aetna Inc. (AET, Fortune 500), "We have simplified business transactions with physicians, increased transparency of policies and processes, and worked with the medical community to encourage adherence to evidence-based guidelines in medicine.
But President Obama's former personal physician, Dr. David Scheiner, is unconvinced. He said private insurers continue to "interfere" with his medical decisions.
"Private insurance companies are screwing it up. You can quote me on that," said Scheiner, who was Obama's doctor for 22 years. "They are making it more difficult for doctors to get preauthorization for treatment because they are hoping it will discourage people from getting expensive treatments." (Read more of what Scheiner had to say.
Chris Curran, spokesman for health insurer Cigna Corp. (CI, Fortune 500), disagrees with the idea that insurers are interfering with physicians.
"First of all, insurers don't want to come between patients and doctors in terms of recommending care," he said. "That's the role of the doctor, not the insurer."
At the same time, Curran agreed that insurers can add value to doctors and consumers.
"We are at the nexus of patient and doctor," he said. "We have a role to play. We can help people understand their [health care] options and keep costs down for patients."
"Look, consumers also need to know that it's not guys like me who are making decisions," Curran added. "We employ 3,000 clinicians at Cigna and they work with doctors to help them with the best care options."
Consumers caught in the middle
Consumer advocates recognize that while a legitimate disagreement can exist between insurers and doctors on treatment options, it shouldn't be at the cost of the consumer.
"I worry about the patient caught in the middle of this," said Katherine Stoll, deputy executive director with Families USA, a consumer health care advocacy group.
"When low-income patients are denied coverage, it usually means there is no other option available to them to get care," Stoll said. "They can't pay out of their pockets."
Ejnes is empathetic but feels that many consumers aren't fully aware of the extent of the tension between providers and payers.
"Doctors are shielding patients from a lot of their frustrations," he said. "I'm not sure that's a good thing or a bad thing. Consumers think everything is fine. But if they're brought face to face with reality, many will be very surprised.
One way this directly affects consumers was pointed out by Dr. Mary Newman, a general internist based in Lutherville, Md., who said her group practice has lost three physicians over the past year.
"They were working very long hours but insurers are still paying them at rates that were set five years ago," she said. "Small practices like our don't have much clout with insurers to raise our rates."
Her top complaints about dealing with insurers are administrative processes such as getting preauthorizations for higher-costing procedures such as MRIs and CAT scans.
She said many insurers only cover preventive visits every two to three years.
"What am I supposed to do if my patient wants to discuss H1N1 concerns in an off year or what vitamins to take to prevent osteoporosis?," she asked. "Many of us simply donate our time."
As for prescriptions, each insurer usually has its own coverage policy, explained Dr. James Rohack, president of the American Medical Association.
"Suppose I prescribe a medication that I feel is the best one for my patient. The patient goes to the pharmacy and is told that the medication is not covered by insurance," said Rohack. "The pharmacist asks me to order another medication. Now I'm being hassled to look for an alternative that I don't believe is in the best interest of my patient."
Despite sharing many of the same frustrations, Ejnes said he's seeing some signs of hope.
"There's some good news and bad news for us from preauthorizations," he said. He finds it useful when insurers give him feedback on patients who are either not filling their prescriptions or are on too many medications.
"But the problem is that I get reports from UnitedHealthcare (UNH, Fortune 500), Blue Cross, Aetna multiple times a month on several patients," Ejnes said. "It would be great if insurers work together and at least use a standardized report instead of all different formats and send them to me once a month or once a quarter. Otherwise it ends up being background noise for me."
At the end of the day, "doctors are dispensers of care while insurers are guardians of purse strings," maintained Deloitte's Keckley.
"Doctors prefer insurers go away, but they aren't," said Keckley. "The fact is all of us need to know the cost of care, what works better and what doesn't. We wouldn't be having a health care debate if providers were doing this on their own."
Talkback: Have you or a doctor that you know left the medical profession mid-career to start a new career outside of the health care industry? E-mail your story to realstories@cnnmoney.com and you could be part of an upcoming article. For the CNNMoney.com Comment Policy, click here.
Correction: A previous version of this story incorrectly identified Dr. James Rohack, president of the American Medical Association.

Features

These Fortune 100 employers have at least 350 openings each. What are they looking for in a new hire? More

It would be the world's second-biggest economy. See how big companies' sales stack up against GDP over the past decade. More