Nintendo slashes Wii price by 20%
'World's most popular home video game system' will sell for $199.99 starting Sunday.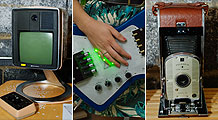 The Gizmodo Gallery in New York, which opened on Sept. 23, features 80 of the coolest gadgets from today and yesteryear. Here are our 6 favorites.
NEW YORK (CNNMoney.com) -- Nintendo said it is cutting the price of its popular Wii video-game console by $50 to $199.99.
The 20% price drop on the Wii, which features a motion-sensor remote, will take effect Sunday, according to a Nintendo statement released early Thursday.
The new price is the first reduction since the console launched in November 2006.
The interactive Wii immediately proved wildly popular across demographics -- including rehabilitation centers, to aid patients' recovery -- and demand for the console outstripped supply more than a year after its initial release in November 2006.
Earlier this year, Nintendo Chief Executive Satoru Iwata said the company had sold 50 million Wii units.
The company said in a statement Thursday that it hoped the new price would attract consumers who were on the cusp of becoming gamers. According to its own research, Nintendo said there are about 50 million Americans who fall into that category.
Nintendo's price cut mirrors recent moves by two rivals. In August, Microsoft (MSFT, Fortune 500) slashed the price of its high-end Xbox 360 "Elite" model by $100 -- just days after Sony (SNE) cut its console PlayStation 3 by the same amount.
'It's-a me, Mario'
In its statement, Nintendo also confirmed the release date of "the first truly multiplayer" game in its ever-popular "Mario Brothers" series.
The "New Super Mario Bros." for Wii will hit stores Nov. 15. It's the first title in the classic series that allows four users to play the game at the same time.
Customers can try this and other games at a "sampling tour" coming to three cities in October.
"Differentiating between thousands of [game] alternatives is nearly impossible," said Nintendo in a statement, adding that the ideal solution is allowing consumers to test drive the games before they plunk down cash for a game or system.
Users will be able to try out one of several Wii games, including "Sports Resort" and "Wii Fit Plus," as well as DS titles like "The Legend of Zelda: Spirit Tracks."
The tour will come to Long Beach, Calif., Oct. 2-4; to Philadelphia Oct. 9-11; and end in New York City Oct. 16-18.

Features

These Fortune 100 employers have at least 350 openings each. What are they looking for in a new hire? More

It would be the world's second-biggest economy. See how big companies' sales stack up against GDP over the past decade. More