Health reform you can count on
Drowning out the noise of the debate, here are 3 things that stand a good chance of passing if lawmakers wrap up reform this year.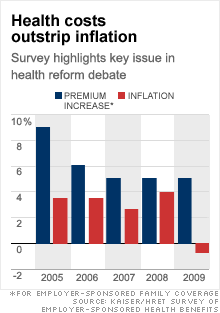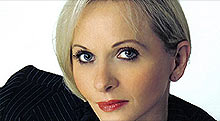 The U.S. health care system is struggling with a shortage of primary care physicians. CNNMoney.com asked readers -- especially those who are medical professionals -- to weigh in on who can help solve the problem. Here are some responses:
NEW YORK (CNNMoney.com) -- The cacophony of the health care debate, already loud, is likely to become deafening as autumn progresses.
The fate of the various reform proposals is anybody's guess. But if a bill does pass this year, several measures stand out as most likely to make the final cut.
And many could have a direct bearing on you.
CNNMoney.com consulted a cross-section of leading health care experts to get their take on just what those measures might be.
Their consensus view if a bill passes: Insurers are likely to face new rules about who they have to cover and limits on how much they can charge. Consumers will be able to buy coverage on a new "insurance supermarket." And coverage will be expanded and made more affordable for many.
Here's a breakdown of some of the specifics.
Putting a tighter leash on insurers
Most of the heart-wrenching stories about the U.S. health care system involve people who need insurance the most but are denied coverage, run out of benefits or simply can't afford it.
Reform, if it takes place, will attempt to fix that.
"The least controversial part [of the reform debate] and the part that helps everyone are the insurance reforms," said Drew Altman, president of the Kaiser Family Foundation, a health policy think tank.
Insurers would no longer be able to deny coverage to those with pre-existing conditions or charge them more because of those conditions.
Insurers may also be denied the right to cancel, or rescind, a policy when a policyholder has kept up with his premiums.
Reform is also likely to prohibit insurers from charging women, particularly of child-bearing age, higher premiums than men, and from setting a cap on annual or lifetime benefits.
And insurers would also be limited in how much more they can charge older policyholders relative to younger ones. Currently "it's a wide, wide difference," Altman said, noting that a 62-year-old with a family of four and a household income of $89,000 pays an estimated $20,000 a year -- or more than 20% of his gross income -- for family coverage. The average for family coverage is just north of $13,000.
But should such a reform go through, it is likely that premiums for younger, healthier workers -- who typically cost insurers the least -- might go up a little, Altman said.
Creating a new insurance marketplace
Today if you end up buying insurance on your own -- that is, not through your employer -- you have to do all the heavy lifting yourself. You have to comparison shop for the best price and figure out the extent of coverage different policies offer.
Reform would lift some of that burden by creating an insurance exchange, where you could shop for plans in one place online and insurers could compete for your business directly.
Stuart Butler, vice president of domestic and economic policy studies at the conservative Heritage Foundation, characterized the exchange as a kind of "Travelocity" for health insurance.
Any plan on the exchange would have to meet a set of standards in terms of a minimum level of coverage and a minimum level of services covered. And there would be tiers of coverage available above the minimum.
"Who can participate in the exchange differs somewhat among the bills ... but likely at least small business and people without access to employer-based coverage or Medicaid," said Karen Davis, president of the Commonwealth Fund, an independent health care research foundation.
Besides providing better consumer protections for individuals and small businesses that buy policies independently, an exchange could help reduce premiums since it would create a broader pool of customers for insurers, and that can reduce their marketing and administration costs, Davis said.
Expanding coverage, making it more affordable
The experts CNNMoney.com consulted were unanimous that reform would include a set of financial subsides for low- and at least some middle-income families buying plans on the exchange.
"They're absolutely going to have subsidies. The debate is how big they are and how high up the income ladder they go. The fine-tuning is a very big issue," Altman said.
Broadly speaking, such subsidies will be determined on a sliding scale based on an individual's income. Also, the amount of the premium owed by people who get subsidies will be capped. That cap will be determined by a formula that defines what percentage of that person's income may be used to pay for premiums.
In addition, reform is expected to expand and standardize eligibility for Medicaid across states.
Altman, Davis and Edwin Park, senior fellow in health policy at the liberal Center on Budget and Policy Priorities, feel confident that there will be a mandate on individuals to buy insurance. But Butler is not so sure.
If there isn't one, that could change how affordable health insurance is since the cost-effectiveness of various reform measures is based on a mandate being in place.
Currently, the three leading bills under consideration propose an individual mandate. But even its supporters don't yet agree on what type of insurance a person should be mandated to get, what the penalty should be if he doesn't, and who should be exempt from the requirement, Park said.
Talkback: What is your biggest complaint against health insurers? E-mail your comments and experiences to realstories@cnnmoney.com and you could be part of an upcoming article. For the CNNMoney.com Comment Policy, click here.

Features

These Fortune 100 employers have at least 350 openings each. What are they looking for in a new hire? More

It would be the world's second-biggest economy. See how big companies' sales stack up against GDP over the past decade. More