A free lunch
After climbing Kilimanjaro, an entrepreneur is inspired to feed Tanzania's hungry schoolchildren.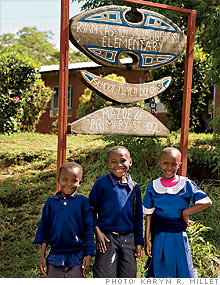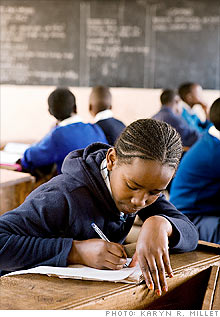 (Fortune Small Business) -- I'd always dreamed of exploring Africa, ever since I read my first Tarzan comic as a child. Finally, in 2004, to celebrate my 60th birthday, I went to Tanzania to experience a safari and climb Mount Kilimanjaro. Seated next to me on the flight from California was Tanzania's minister of water and wildlife development. We talked for thousands of miles, and he made arrangements for me to visit a school in the Monduli district, east of Kilimanjaro.
When I toured the school, I was shocked. The leaky tin roofs turned the dirt floors to mud during the rainy season, and the walls couldn't keep out the heat, chill or bugs.
The school had a shortage of all material goods, but the kids possessed an abundance of human spirit. Respectful, attentive and wearing traditional school uniforms, they spoke English to varying degrees, as well as their native Swahili. They knew that learning was an important event in their lives; their hunger for knowledge outweighed the fact that they had little food in their bellies.
It broke my heart that these children had to struggle to survive, so I asked the headmaster what it would cost to feed them. As little as 20 cents per child per day, he told me. As soon as I got home, I founded Kids of Kilimanjaro. Since then we've grown to provide hot lunches for nearly 13,000 schoolchildren every day. The free lunch program has eased a major problem the youngsters face.
I know that a good education could really make a difference in these children's lives. I'm living proof.
My parents always stressed the importance of education. I paid my own way through college -- I studied social science at the International Christian University in Tokyo -- by teaching English to students and businesspeople. After attending university I moved to San Francisco in 1967, when I was 25 years old. In 1978 I realized my American dream when I founded my own promotional-toy company, Namkung Promotions Inc. My success all started with a good education.
It's amazing that something as simple as a nutritious lunch can change and enrich so many lives. Giving young people a better, healthier life can inspire them to go all the way through college and lead a movement that transforms their country.

To write a note to the editor about this article,
click here
.