Game-changing ideas for your business
When it comes to innovation, small firms dominate.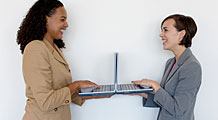 Innovation is a process. Follow our road map to generate game-changing ideas for your business.
(Fortune Small Business) -- The history of innovation tends to highlight products, not processes.
We commonly chart human progress as a series of innovative new products: fire, the wheel, gunpowder, the printing press, the microchip. But we know far less about the cultural processes that promote successful product innovation. We don't really understand how Gorp and his caveman colleagues discovered that fire could help them lead easier and more comfortable lives, or how Johannes Gutenberg figured out that 15th-century grape and olive presses could be combined with movable type and oil-based ink in a system that allowed information to be diffused far more widely and cheaply than ever before.
We do know that in the business world, entrepreneurship is the mother of innovation. Small U.S. firms produce 13 times more patents than their large corporate counterparts do, according to the Small Business Administration. And small companies exercise disproportionate influence over technological progress. The proof: Small firm patents are twice as likely to be among the top 1% most cited patents.
So what makes small organizations more innovative, and how can you adapt these lessons to promote successful innovation in your own business? In our Innovation Nation package, you'll meet entrepreneurs from many industries who explain precisely how they came up with game-changing products or services and how they manage their teams in order to maximize economic creativity.

To write a note to the editor about this article,
click here
.