CIT launches restructuring plan
Troubled lender to small businesses is trying to slash $5.7 billion of debt off its books through an exchange offer, or face bankruptcy.
Bailout tracker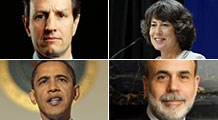 The government is engaged in a far-reaching - and expensive - effort to rescue the economy. Here's how you can keep tabs on the bailouts.
More
301 Moved Permanently
---
nginx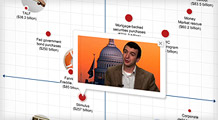 The collapse of Lehman led to a deeper recession and a litany of government programs to try to end the pain. We rate just how bold and effective the plans have been so far.
NEW YORK (CNNMoney.com) -- Troubled lender CIT Group launched a restructuring plan aimed at shaving $5.7 billion of debt. The company warned it could file for bankruptcy if it falls short of that figure.
CIT (CIT, Fortune 500), one of the nation's largest lenders to small businesses, said late Thursday that its board of directors and steering committee has approved the offering. Bondholders will be given the right to exchange their current notes for a portion of a series of newly-issued secured notes and/or preferred shares.
"Through ... this plan, whether completed in or out of court, we are very confident that CIT will emerge as a strong bank holding company with renewed earnings and profitability potential," said Jeff Werbalowsky of Houlihan Lokey, the financial adviser to the bondholders' steering committee, in a statement.
The exchange offers will expire at 11:59 p.m. ET on Oct. 29. The newly-issued bonds will mature within four to eight years, which would give CIT some breathing room as the company's current debt begins to near its maturity date.
If at least $5.7 billion worth of debt is not cleared off its balance sheet, CIT said, it could file for Chapter 11 bankruptcy protection and is asking most bondholders to approve a prepackaged reorganization plan. If that is approved, it would allow the company to quickly exit Chapter 11.
In recent months, CIT's fate has seemed in lockstep with the condition of the credit markets -- the downturn of which battered the short-term debt that the company once used to fund itself. The company's credit was given a "junk" rating and it ran out of funding options.
The company received $2.3 billion from TARP last fall, but even that influx of cash was not enough to keep it stable for long.
CIT was considering bankruptcy as recently as July, before it received a $3 billion emergency loan in July from some of its largest bondholders. In August, the firm completed a debt repurchase program to raise cash.

Features

These Fortune 100 employers have at least 350 openings each. What are they looking for in a new hire? More

It would be the world's second-biggest economy. See how big companies' sales stack up against GDP over the past decade. More