TARP: Taxpayers on the hook for $200 billion
Experts say the cost of the $700 billion bailout to taxpayers is a small price to pay for saving the economy. Others argue we are just staving off an inevitable collapse.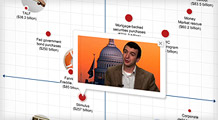 The collapse of Lehman led to a deeper recession and a litany of government programs to try to end the pain. We rate just how bold and effective the plans have been so far.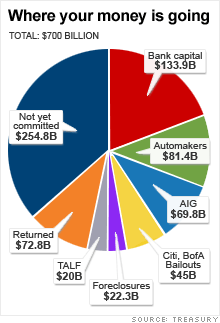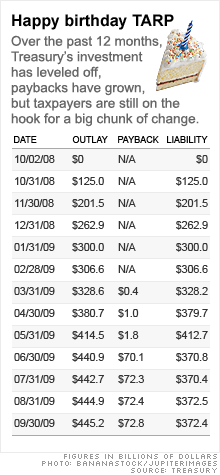 301 Moved Permanently
---
nginx
NEW YORK (CNNMoney.com) -- Taxpayers stand to lose between $100 billion and $200 billion on TARP -- Treasury's $700 billion financial market bailout.
While that's nothing to sneeze at, many experts say that the Troubled Asset Relief Program helped rescue the economy from a second Great Depression.
But there are others who argue that the billions of dollars that taxpayers shelled out simply delayed an inevitable epic collapse of the financial sector.
A year ago, when the financial markets were in turmoil, the Bush administration and supporters in Congress said TARP would be used to buy banks' troubled assets, and would be an investment -- it could even turn a profit.
But TARP, which celebrates its first birthday on Oct. 3, has been used for many programs it was not initially intended for, like saving AIG, automakers and helping struggling homeowners.
Some quick math: Of the authorized $700 billion, the Treasury Dept. has needed to deploy only about $450 billion.
About half of that has gone to investments in hundreds of financial institutions in exchange for preferred shares. From these programs, the government has gotten $71 billion back through repayments and $12 billion back through warrants and dividends.
The other half of TARP has gone to much riskier emergency lending programs or other non-lending initiatives. A big chunk of that will filter back to the Treasury's coffers eventually. But a lot won't be returned.
Foreclosure help: Treasury said it will not get any money back from a foreclosure mitigation program called Making Home Affordable. Treasury has spent $22.3 billion so far and will eventually spend $50 billion on that program.


Automakers: Taxpayers have sent $83.5 billion to automakers, $2.1 billion of which has been returned. Of the $50 billion in loans to General Motors, all but $6.7 billion were converted into common stock, and Treasury estimated that about $23 billion of that will be subject to "much lower recoveries." Of the $15.2 billion that went to Chrysler, Treasury said $5.4 billion is highly unlikely to be recovered.


AIG: The troubled insurer has a $182 billion bailout available to it, $70 billion of which is available from TARP. So far, Treasury has lent $44 billion to AIG (AIG, Fortune 500), and economists are dubious about getting the whole thing back. The company has pledged to repay its TARP loan in three to five years, but the insurer has missed three dividend payments already and won't pay back most of its other loans.


Citigroup: Treasury converted its entire $20 billion emergency loan to Citigroup (C, Fortune 500) into common stock. Financial industry experts note that though Citi's stock is up 365% from its March low, Treasury didn't convert the stock into common shares until the end of July, missing the vast majority of that rally.


Other programs: Economists are also doubtful that companies like GMAC, Bank of America (BAC, Fortune 500) and CIT (CIT, Fortune 500) will pay back all or any of their loans. GMAC failed the capital stress test from May, and many believe the government will convert its $13.5 billion loan into common shares. We have $45 billion on the line with Bank of America, which is still struggling to work through its Merrill Lynch deal. And CIT is nearing bankruptcy, which would put the return of its $2.3 billion loan in jeopardy.
And that's how financial experts calculated the $100 billion to $200 billion that Treasury is likely to lose.
Why it was worth it: "We were presented with the worst case scenario last September: the collapse of the financial markets," said Steven Adamske, spokesman for the House Committee on Financial Services. "For anyone worried about losing a dollar over this, let's talk about the trillions of dollars more that would have been lost on retirement savings and the many more jobs that would have been lost."
Others even argue that TARP's value cannot be calculated in dollar terms.
"There are portions of TARP we'll never see a monetary return from," said Lawrence Kaplan, former special counsel at the Office of Thrift Services who is now counsel in the financial institutions practice at Paul Hastings. "But we've seen a significant economic return that is greater than just dollars."
For some, the alternative was simply too risky to stand pat.
"People will never understand the enormity of the disruption that we never saw: No one would have had credit, no one could have accessed their savings," said Edward Gainor, a partner at Bingham McCutchen in Washington who represents funds dealing with distressed assets. "As a society, we shouldn't regret that some amount was invested in keeping the wheels on the cart."
Why it wasn't worth it: There are many financial sector experts who say that TARP was a mistake.
"If you get a very expensive treatment that saves your life, but you don't sort out the underlying problem, it may not come back for awhile, but it will come and get you again," said Simon Johnson, professor of global economics and management at MIT.
Johnson contends that the government had an opportunity with TARP to really fix what ailed the economy: Regulators could have thrown out failing corporations' management, ensured that bad banks are less politically powerful and reformed regulation to rid financial institutions of irresponsible practices. Though the Obama administration is pushing for regulatory reform now, Johnson said the solutions don't go far enough because there isn't the same political will to ensure that the events of last year won't happen again as there was during the crisis.
As a result, Johnson and others argue that it's a false dichotomy between the bailout that Treasury drafted up and epic failure of the economy.
"There are serious questions about how TARP was managed, because it became much more intrusive into the economy than it should have been," said James Gattuso, senior fellow of regulatory policy at the conservative-leaning Heritage Foundation. "The market was more resilient than many gave it credit for ... but instead we gave money to companies like AIG and automakers. We aren't going to see that money again."

Features

These Fortune 100 employers have at least 350 openings each. What are they looking for in a new hire? More

It would be the world's second-biggest economy. See how big companies' sales stack up against GDP over the past decade. More