Golf architect's new course is pitch perfect
Tom Doak grows his business by going back in time.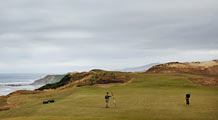 Golf architect Tom Doak's newest course channels legendary designer C.B. Macdonald.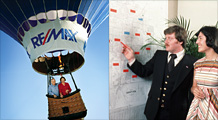 The founders of four breakout companies on how they built billion-dollar global brands like Costco and Re/Max from scratch.
BANDON, ORE. (Fortune Small Business) -- On a rare windless day on the Oregon coast, Tom Doak stands a few strides from a cliff above the Pacific Ocean, gazing toward the flagstick of a long, downhill par 3. He takes a fast, fluid swing with a 4-iron but pulls his shot well left of the flag. We can't see where the ball has come to rest. "Believe it or not, that should still be okay," he says, smiling.
He would know. We're previewing Old Macdonald, the world's most eagerly anticipated course, at America's most acclaimed golf getaway, Bandon Dunes Golf Resort, designed by one of the game's most influential living architects: Doak himself. Currently every Bandon guest can play one 10-hole round at Old Macdonald -- the full 18-hole course is not scheduled to open until June 2010. Playing here now with Doak is like sitting at the piano with Philip Glass as he debuts a new score.
Doak, 48, has returned to Bandon to meet a potential client who's considering building a Florida resort, and to check on the progress at Old Macdonald. His company, Renaissance Golf Design, based in Traverse City, Mich., has just seven full-time employees. Although his firm works on only two or three new projects each year, it generates annual revenues of about $3 million. At a time when most golf architects are scrambling for jobs -- 28 courses have opened in the U.S. so far this year, on track for the lowest total in two decades -- Doak's boutique approach keeps his enterprise healthy. But it involves him in more business matters than he'd prefer. "I'd like to be the creative guy who bounces around and does all the cool stuff," Doak says. "That's hard when you're a smaller firm. You're expected to be more hands-on."
Despite the dearth of new courses, golf remains big business in this country. According to a 2005 study by SRI International, golf is a $75.9 billion industry, including $6.2 billion spent on equipment and supplies. In 2008, according to the National Golf Foundation, 28.6 million golfers played some 489 million rounds spread across nearly 16,000 courses.
Opened in 1999, Bandon Dunes quickly became the new must-see destination for golf cognoscenti, debuting at No. 10 on Golfweek's America's Best Modern Courses list. It was built by a then-unknown Scot named David McLay Kidd on a dramatic coastal property in southern Oregon whose terrain recalls Ireland or Scotland: firm, sandy seaside ground, perfect for a links. (There are few of these largely treeless courses in the U.S., in part because appropriate land is generally unavailable.) Adding to the old-school, U.K.-flavored vibe, carts were banned. The walking-only policy underlined Bandon's commitment to tradition.
The same year, Mike Keiser, the greeting-card magnate who owns the resort (and was profiled in our June 2006 issue), hired Doak to build Pacific Dunes on an adjacent property to the north. "Once I spent time on the land, I thought it was the best site anyone had had to work with in 60 years," Doak says. His was a well-schooled opinion: He has seen more than 1,000 courses during his career. As a Cornell University undergraduate he snagged invitations to many of America's best courses via a letter-writing campaign to the clubs' higher-ups. After graduating from Cornell in 1982 with a degree in landscape architecture, he spent a year abroad visiting more than 170 British courses, as well as caddying for three months at St. Andrews Old Course -- the oldest and most famous golf course in the world.
Although he had designed 11 courses before being tapped to create Pacific Dunes, at the time Doak was still best known as a critic -- and an acerbic one at that. His controversial 1986 book, "The Confidential Guide to Golf Courses," lambasted the work of many prominent course designers, not all of whom were dead. "At the time Tom was more famous for his opinions than his architecture," says Joe Passov, a senior editor at Golf magazine.
Pacific Dunes debuted in 2001 and proved the coming-out party for Doak's signature style: minimalist, natural, organic. The course soon surpassed Bandon Dunes in the major magazines' rankings -- Golf currently ranks it 13th in the world, making it one of four Doak courses in the magazine's top 100 -- and cemented the resort's reputation as no less essential than California's Pebble Beach.
A third highly lauded course, Bandon Trails, debuted four years later, and in early 2008, Keiser asked Doak to build a fourth course at the resort. But this time the assignment came with unique instructions: Keiser wanted the architect to channel C.B. Macdonald, the legendary designer of several iconic courses, including Chicago Golf Club. "Mike knew how familiar I was with Macdonald's work," Doak says. "The only thing I asked of Mike was that we use Macdonald's ideas but make the course our own."
Almost every hole is visible from the windswept ridge that overlooks the 400 acres of Old Macdonald, a panoramic expanse of greens and browns with the slate-colored Pacific beyond. The vista recalls a historic battleground. Were it not for golf etiquette, I would have let out a battle cry as Doak and I marched to the opening tee.
We begin on Long Hole, a par 5 whose design references the 14th hole at St. Andrews Old Course. It's well named, at 590 yards in length and seemingly as wide. The magnitude of the hole creates a sense of permanence, as if golf has been played here for centuries. Even the putting surface is enormous, a precursor of what's to come: "the biggest set of greens anyone has built in the past 30 years," Doak tells me.
Soon we reach the third hole, where, like Doak's, my shot misses to the left. We descend toward our wayward balls, which have come to rest within feet of each other. From just off the green we play long approach putts -- seldom used on U.S. courses, they are common shots at any Bandon Dunes course, where the firm, tightly mowed terrain makes chipping difficult. Doak saves his par while I make bogey. It is his green, after all.
Playing with Doak has its perks. We sneak onto two holes that have been grassed but not yet finalized. "This high stuff here needs to be cut back," he says, pointing out fescue growing to the front right of one green.
His easygoing manner betrays no nervousness about whether Old Macdonald will live up to its considerable buzz. One veteran Bandon caddie told me that he expected the completed layout to be "the greatest course opened anywhere in the past 50 years." The excitement is no less intense on golf architecture blogs and Websites.
"We'll see what everyone says after a year or two," says Doak. "But if it is the best course at the resort, then people are saying it's one of the top 20 courses in the world." With a laugh he adds, "Or that the other courses are overrated."
A clip of Doak playing Old Macdonald on a local TV newscast quickly went viral, sending course-design buffs to YouTube for a sneak peek. One such buff is Ash Towe, a 56-year-old schoolteacher from Auckland, New Zealand who recently spent his summer vacation touring some of America's finest courses, including Old Macdonald. "The course is going to be special when it's completed -- the scale of the layout will capture the imagination," Towe says over a microbrew at McKee's Pub, the resort's Scottish-style bar, renowned in the golf world for -- believe it or not -- its meat loaf. "I wouldn't move it above Pacific Dunes yet, but on the evidence of my 10-hole loop, there's every chance."
The morning after my tour of Old Macdonald -- another oddly calm, cloudless, Scotland-meets-Scottsdale day -- I'm standing alone on the tee of Pacific Dunes' cliffside 11th hole as the Pacific waves lap below. It's a short, scary par 3, with the smallest green on the course surrounded by six bunkers, native beach grass and gorse. The natural beauty distracts me from the challenge of the tee shot -- that's my story, anyway -- which I hit toward a bunker on the right. Thankfully, upon wending my way around a natural dune and arriving at the green, I see that my ball has stopped just short of the bunker, and I'm able to two-putt for par.
As I head toward the next tee, I'm once again struck by the notion that Doak has not so much created the hole as he has carefully edited Mother Nature's work. A similar thought had crossed my mind on a less obviously stunning hole, the inland par-4 seventh. With its voluptuous terrain, all dunes and hollows and ripples, the hole revealed more of itself with each passing step.
It's a feeling you don't get while whizzing past in a golf cart, or from most designers' work. Pacific Dunes (and, soon, Old Macdonald) owes its greatness not only to its stupendous setting but also to Doak -- his sense of when to leave well enough alone, his talent for making manmade landscapes appear found. Whether working as himself or in the guise of C.B. Macdonald, Doak's ability to produce thrilling golf holes in harmony with nature makes tapping into golf's spiritual side almost inevitable.
Some 90 minutes later I find myself on the 18th green, where I roll in an improbable, curling 20-foot putt for par. The round has flown by too fast. After a quick chicken sandwich I head straight back to the first tee. It's still early afternoon, and I can easily get in another 18 holes. Maybe even 27 or 36. Only the sunset can stop me.

To write a note to the editor about this article,
click here
.