America's most tone deaf CEO
He works for AIG. You know? The bailed out insurer owned mostly by taxpayers. Its new CEO, Robert Benmosche, is getting attention for his brash style.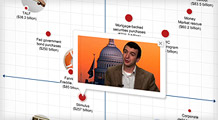 The collapse of Lehman led to a deeper recession and a litany of government programs to try to end the pain. We rate just how bold and effective the plans have been so far.
NEW YORK (CNNMoney.com) -- Since being named AIG's chief executive in August, Robert Benmosche's brashness has unnerved board members and raised the ire of Congress.
According to numerous news reports, Benmosche has done everything from requesting corporate jets for personal use to saying he was prepared to tell Congress to "stick it where the sun don't shine."
"We call that chutzpah," said Rep. Brad Sherman, D-Calif. "He's determined that the federal government will continue to shovel money at him, his counterparties and shareholders. But why would we allow that?"
AIG has $182 billion in government bailout funds available to it, of which it has already borrowed $120.7 billion.
Benmosche, formerly the CEO of insurer MetLife (MET, Fortune 500), came to AIG (AIG, Fortune 500) on a wave of enthusiasm, and the stock has soared some 200% since his appointment. Both Washington and investors were happy that the board chose someone with a proven track record.
"Benmosche was successful in Met's transfer from a private to a public company and changing the corporate culture, which was a big part of Met's success," said Stewart Johnson, portfolio manager at Philo Smith & Co., an investment banking firm that specializes in insurance companies. "He's a leader, and there are a lot of people that respect him from a business perspective."
Pulling no punches. The new CEO took over AIG on Aug. 7. His first move? Take a two-week vacation to his summer house in Croatia where he told reporters who tracked him down that he wanted to maximize value for shareholders and wouldn't be tempted to sell off assets so quickly.
The company had previously pledged to repay its TARP loan in three to five years enabled in large part by selling assets.
"If [Benmosche] holds onto [the assets] and their value goes down, the taxpayer loses, and if they go up, he and AIG's shareholders win," said Sherman. "It's heads he wins, tails we lose."
Benmosche also negotiated an annual salary of $3 million, with a bonus and options that could bring that total up to $10.5 million. According to news reports, Benmosche threatened to quit if his pay package wasn't approved. Obama's executive pay czar Kenneth Feinberg formally approved the package on Oct. 2.
How not to make friends. Early last month, Benmosche issued a public apology after saying in a staff meeting that New York state Attorney General Andrew Cuomo "doesn't deserve to be in government."
Cuomo is investigating AIG's controversial bonus payments.
At the meeting, according to Bloomberg News, Benmosche followed up his criticism of Cuomo, calling Congress a bunch of "crazies." He also said that if he had been grilled by lawmakers like his predecessor, Ed Liddy, he would have reacted differently. "I would have told them what to do with this job, and I would have said it on TV: You can stick it where the sun don't shine," he said.
In the aftermath, unidentified board members spoke to Wall Street Journal reporters early last month, saying that Benmosche had overstepped his bounds and AIG Chairman Harvey Golub would have to rein him in.
Then in late September, AIG's board declined Benmosche's request to use corporate jets for his personal travel, according to AIG spokesman Mark Herr. Treasury rules for bailed out institutions prohibit companies from giving executives such perks without the government's prior approval.
Herr said he knew of no animosity between Benmosche and the board on any issue, including the jet matter. Requests to speak with Benmosche and members of AIG's board were declined. Calls to board members' offices were directed to AIG.
Furthermore, three trustees appointed by the government to represent taxpayers' 79.9% stake in AIG declined to comment. A spokesmen for the trustees said they do not comment on day-to-day operations of AIG.
AIG is no MetLife. "He should be doing more work figuring out what strategies he's going to implement to make the company successful, and less time telling everyone he's the boss," said Andy Barile, chief executive of insurance consultant Andrew Barile Consulting Corp. "We know you're the boss. That's the problem everyone has with him: he's arrogant."
Insurance insiders say Benmosche has a reputation of being brassy, which served him well in previous positions, but it is coming to bite him.
"He hasn't yet realized that he can't be the CEO that he was at Met," said Barile. "Now he's in a situation where his company is majority-owned by the government, and he needs to relate to them."
"AIG has the cheapest source of capital of any publicly held company in the country: the government," added Barile. "He should be schmoozing them. Instead, if he keeps mouthing off like this, he may lose his support, and the government may stop bailing him out."
That won't likely happen, since Treasury and the Federal Reserve have made the loans to AIG -- not Congress. But he's certainly caught lawmakers' attention.
"He called us idiots, he called us corrupt," said Sherman, the California lawmaker. "I do have to thank this guy for his insults. He caused us to wake up from being completely asleep."

Features

These Fortune 100 employers have at least 350 openings each. What are they looking for in a new hire? More

It would be the world's second-biggest economy. See how big companies' sales stack up against GDP over the past decade. More