GM hits a big speed bump
The collapse of the Saturn sale and glitches in the Opel and Hummer deals are signs that GM faces a difficult turnaround after a quick bankruptcy.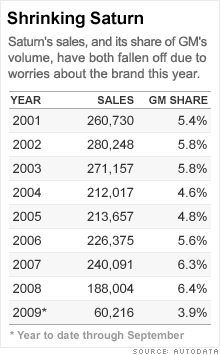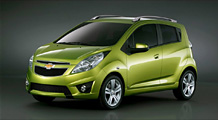 General Motors recently showed reporters and select members of the public what it plans to build over the next two years.
NEW YORK (CNNMoney.com) -- For General Motors, the road out of bankruptcy isn't proving to be as smooth as its quick trip through it.
In the past week, the company's plans to sell its Saturn brand to auto retailer Penske Auto Group fell through, forcing GM to start winding down a network of about 350 dealerships.
But that's not the only post-bankruptcy problem for GM. Its plans to sell Hummer to a Chinese industrial company missed a target date of closing by Sept. 30.
GM is also trying to close a deal to sell two-thirds of GM's European Opel brand to a joint venture between Canadian auto parts maker Magna International (MGA) and Russian automaker GAZ Group. Despite ongoing losses at Opel, the decision to sell that stake was a difficult one for GM. Many experts are concerned that the Opel sale will weaken GM by limiting its global reach.
"It hurts their global capabilities," said Tom Libby, president of the Society of Automotive Analysts. "They can't draw on this major source of engineering resources that they've used for years. If they had had the money they needed, they wouldn't have done it."
Libby said it's not surprising that the Saturn deal fell through, that Hummer is behind scheduled, or that the Opel deal has raised questions. But he said these are all signs that turning around GM for the long run will be a significant challenge.
"They made assumptions during the bankruptcy process and that's why the process was so quick," he said, referring to the company's six-week trip in and out of bankruptcy court. "But it was always going to be difficult to meet those expectations."
Saturn closure comes with costs
The Saturn deal with Penske (PAG, Fortune 500) was never going to raise a large amount of money for GM. But it would have allowed GM to supply a Penske-run Saturn with vehicles for two years while it found a new contract supplier. That plan would have helped GM keep factories running more efficiently.
In addition, GM will now have to pay Saturn dealers between $100,000 and $1 million each to wind down, which will cost the company more than $100 million. Libby said those payments, while modest in comparison to the company's ongoing losses, still will hurt GM.
"They have no excess funds. It's going to affect something in the organization significantly," he said.
GM spokesman John McDonald said that the company never counted on avoiding payments to dealers through a Saturn sale. So the collapse of the Saturn deal is not a setback, he said.
McDonald added that the company hopes to produce the same number of vehicles for its other brands that it would have if it was still making Saturns. GM has Chevrolet and Buick offerings that are similar to most Saturn models.
Saturn's industrywide market share has fallen to a record low of less than 1% this year as buyers avoided the endangered brand and GM cut back on marketing efforts. But Saturn still accounted for about 4% of GM's total sales in 2009. So any slip in sales could hurt GM at a time when it is struggling to end a period of market share declines in the U.S.
Opel deal critical. Hummer? Not so much.
The Opel deal could affect GM's competitiveness not just in Europe but in North America as well. Some of GM's most critically acclaimed vehicles in recent years, including the Chevrolet Malibu and the Buick Lacrosse, are built on an Opel platform.
The Opel sale was temporarily put on hold by GM's new board as it studied whether it was the best move for the company following bankruptcy. But the need for short-term cash and political pressure from the German government, which had loaned the company money to keep Opel afloat, left GM little choice than to proceed with the sale.
"It wasn't negotiating from a position of power," said Subroto Banerjee, a partner with business consultant Frost & Sullivan. "In a time of being forced to sell something, you're in deep trouble. You're going to give up more than they'd like."
Still, the Opel deal could benefit GM even though some worry about the impact it will have on sales. The keys to whether the deal will be good or bad for GM depends on how much access GM will have to Opel's engineering resources going forward and the limits on Opel's new owners being able to compete against GM in markets outside of Europe.
"From GM's position, those two things are critical," said David Cole, chairman of the Center for Automotive Research, a Michigan think tank.
Then there's Hummer. The decision to get rid of Hummer, while arguably attracting the most attention because a Chinese company wants to buy the brand, will likely have the least impact on GM. Hummer is small even in comparison to Saturn and it has a much smaller dealer network.
GM's McDonald insists that missing the target date to close the deal is not necessarily a sign that there are problems. "Especially when dealing with an international buyer, missing a deadline is not uncommon," he said.
Nonetheless, Hummer has been another drain on GM's limited resources, and experts say they need to resolve the future of the brand sooner rather than later. Libby said that keeping Hummer is not an option for GM.