Gold hits another record
The precious metal continues to climb as investors fret about the weak dollar and inflation. Large funds do most of the buying.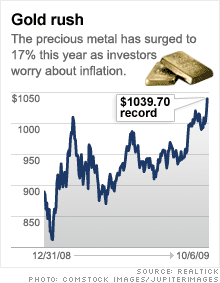 301 Moved Permanently
---
nginx
NEW YORK (CNNMoney.com) -- Gold continued to push higher into record territory Wednesday amid concerns about a weak dollar, inflation and technical-based buying by large investment funds.
December gold rose $4.70 to settle at a fresh all-time high of $1,044.40 an ounce. Earlier in the session, gold traded as high as $1,048.20, topping Tuesday's intraday mark by $3 an ounce.
Gold, which is up 17% so far this year, has been supported recently by concerns about the weak dollar and bets that inflation will rise over the long term as the economy recovers and stimulus measures will have to be reversed.
Analysts expect the rally to continue and say gold could push past $1,050 this week and top $1,100 in the near future.
Rock-bottom interest rates and an ever-expanding U.S. budget deficit "means that gold will have a good underpinning of support through the end of the year," said Tom Winmill, president of Midas Funds, which manages gold-oriented mutual funds.
Winmill said gold could climb to $1,100 by the end of the year and average $1,200 in the first quarter of next year.
The recent rally has also been driven by large investment funds and dealers covering short positions, analyst said.
"Much of the buying has been by institutional investors," analysts at CPM group wrote in a research report. "There has been very little buying by smaller, retail investors."
While gold will continue to rally in the near term, the lack of retail investors suggests that prices could fall sharply once the momentum fades, CPM group said.
"An absence of buying from retail investors often suggests that a sharp jump in prices will not be sustained and that prices will fall back," CPM group wrote.
Meanwhile, the dollar recovered some ground Wednesday, but was still down 10% versus a basket of currencies since its most recent high in March.
Analysts expect the greenback to deteriorate further as the U.S. budget deficit swells and investors flock to higher yielding currencies.
"The amount of U.S. debt is staggering," Winmill said, adding that health care reform and other government proposals mean the deficit could continue to grow.
"There's no way to pay for these obligations so they're going to have to print money," he said. And that means inflation is on the horizon "because the more dollars there are the less they buy," Winmill added.

Features

These Fortune 100 employers have at least 350 openings each. What are they looking for in a new hire? More

It would be the world's second-biggest economy. See how big companies' sales stack up against GDP over the past decade. More