GM loses top executive
Mark LaNeve, head of GM's U.S. sales since 2005, leaves company. CEO says replacement may come from outside the automaker.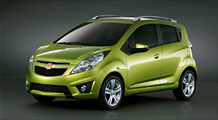 General Motors recently showed reporters and select members of the public what it plans to build over the next two years.
NEW YORK (CNNMoney.com) -- General Motors is losing its top U.S. sales executive, a key player in the automaker's reorganization, to a job in another industry, CEO Fritz Henderson announced Wednesday.
Mark LaNeve, 50, who had previously headed GM's Cadillac brand as well as Volvo for rival Ford Motor Co. (F, Fortune 500), has been in charge of the sales in GM's core home market since March 2005. His previous oversight of marketing was taken away from him in July.
GM would not disclose the company he is going to. He will leave GM Oct. 15.
LaNeve has helped lead the company in recent decisions to shed non-core brands and more than 1,000 U.S. dealerships.
But GM's U.S. market share has steadily slid during his tenure from 27.3% in 2004, the year before he took the job, to 19.7% in the first nine months of this year.

"GM has cut about a third of its management ranks since emerging from bankruptcy in July," said Michelle Krebs, senior analyst for industry sales tracker Edmunds.com. "Sales and market share in the U.S. have continued to slide and the sales guy is always the one who bears the blame."
During a press conference to mark the 90th day since GM emerged from bankruptcy, Henderson said that he would consider hiring an outsider to take LaNeve's position.
Later on Wednesday, GM named LaNeve's replacement -- an insider: Susan Docherty, 46, currently general manager, Buick-GMC.
One frequent criticism of GM is that it has drawn top managers from the ranks of lifetime GM employees. Henderson, who replaced GM veteran Rick Wagoner in March, joined the company immediately after business school.
By comparison, Ford Motor and Chrysler Group are now run by CEOs who came from outside the industry.
"I do think there is a benefit to bringing in outsider," Henderson said. "I think we would benefit from fresh perspective." GM said it look outside the company to fill Docherty's spot at Buick-GMC.
But Henderson said GM has some constraints on recruiting top executive talent, including pay limits imposed as a result of its government financial support.
"We are working in Washington to finalize how we pay people," he said. "Prior to bringing people in from the outside, we need to say how we might pay them."
Henderson admitted that he has seen speculation that GM Chief Financial Officer Ray Young might also leave GM, but did not offer any endorsement of his performance, saying only "Ray's our CFO."
In other comments, Henderson also said that GM has not drawn down any more federal dollars since emerging from bankruptcy. It still plans to have an initial public offering of its stock in the second half of 2010, a key to repaying the $50 billion in federal help it has received. But he said that offering would depend on financial performance, its balance sheet and market conditions.
He said the company is on course to meet its financial plans, even though year-to-date staff reductions have been somewhat less than forecast.
"Profitability and cash flow will be the key," he said about the IPO plans.

Features

These Fortune 100 employers have at least 350 openings each. What are they looking for in a new hire? More

It would be the world's second-biggest economy. See how big companies' sales stack up against GDP over the past decade. More