The government's fuzzy small biz math
The Small Business Administration's count of federal money spent with small businesses isn't adding up.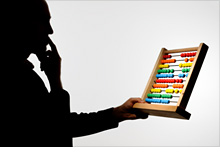 Map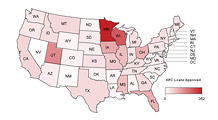 The government's America's Recovery Capital (ARC) loan program aims to help struggling small businesses. Here's a look at which banks are making the loans.
View Map
(Fortune Small Business) -- In August the Small Business Administration released its annual scorecard tallying federal dollars awarded to small business contractors last year.
The good news? Federal agencies claim they spent $93.3 billion. That's $10 billion more than the year before.
The bad news? It's fuzzy math. Billions of dollars reportedly allocated to small contractors are still flowing to corporate giants. The SBA's top two "small business contractors" for 2008 -- VSE Corp. ($1 billion in annual revenues) and AAI Corp., a division of Textron Inc. (TXT, Fortune 500) ($14.2 billion in annual revenues) -- weren't small at all. They alone accounted for $1.6 billion in federal "small business" spending.
Joe Jordan, SBA associate administrator for government contracting, says his agency has been trying to weed out impostors. To get to the $93.3 billion total from the original $107 billion reported to it, he says, the SBA scrubbed out some $6 billion in contracts incorrectly attributed to small businesses, plus more than $7 billion worth of contracts that were awarded and performed overseas or fell under other exemptions.
"We're confident that this year's report is based on the most accurate data ever," Jordan says.
How accurate is that? "The numbers continue to suffer from inaccuracy," says Tom Sullivan, who spent seven years as chief counsel for advocacy at the SBA before he left in October 2008. "I think we're three or four years away from knowing exactly what they mean."

Do you have a lesson to share that you've learned from running your business? Tell us at fsb_mail@timeinc.com and you could be featured in an upcoming story.

To write a note to the editor about this article,
click here
.