Regulators said to open IBM antitrust probe
Industry group says companies that compete with IBM in the market for mainframe computers have been contacted by the Justice Department about anti-competitive practices.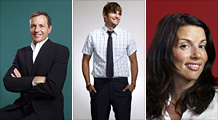 These tech-world luminaries - photographed during our recent Brainstorm Tech conference - aren't just changing the game; they've defined it. Photographs by Robyn Twomey.
NEW YORK (CNNMoney.com) -- Antitrust regulators have opened an investigation into claims that IBM abused its dominance of the market for mainframe computers to suppress rivals, an industry group said Thursday.
Ed Black, chairman of the Computer and Communications Industry Association (CCIA), said members of the organization have received requests for information from the Justice Department regarding anti-competitive practices at IBM (IBM, Fortune 500).
A Justice Department official declined to comment.
IBM has been accused of stifling competitors by withholding patent licenses and certain intellectual property to maintain a monopoly of the mainframe market. The company is also accused of tying the sale of its operating system to its mainframe hardware to block competition.
The move comes after the CCIA, which counts IBM's rivals Microsoft (MSFT, Fortune 500) and Oracle (ORCL, Fortune 500) as members, urged the government to probe the company earlier this year.
IBM has dominated the mainframe business since the 1970s and takes in as much as 45% of the total profit in the market, Black said. "IBM has in fact had a monopoly for decades," he said.
Mainframe computers are vital to the operations of big businesses around the world. According to CCIA, mainframes support up to 80% of the world's computer-based transactions involving ATM sessions, airline bookings, tax filings, health records, and other essential services.
T3 Technologies, a privately held mainframe hardware and services firm, filed an antitrust complaint against IBM with European regulators in January.
The Tampa, Fla.-based company also filed a civil suit against IBM in the United States, which was dismissed by a federal district judge in New York last week.
IBM said in a statement that it is aware that the government has requested information from T3, adding that it intends to cooperate with any inquiries from the Justice Department.
"We continue to believe there is no merit to T3's claims, and that IBM is fully entitled to enforce our intellectual property rights and protect the investments that we have made in our technologies," the company said.

Features

These Fortune 100 employers have at least 350 openings each. What are they looking for in a new hire? More

It would be the world's second-biggest economy. See how big companies' sales stack up against GDP over the past decade. More