Rust Belt Shine: Pittsburgh
Pittsburgh has limited airline service, but a large pool of educated talent drawn by great universities and a hopping cultural scene.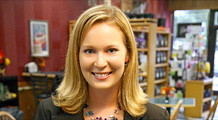 We asked entrepreneurs in all 50 Best Places how their hometown treats business owners. See how the cities stack up.
(Fortune Small Business) -- "I'll be disappointed if you're still in Pittsburgh."
When marketing entrepreneur Christina Koshzow read the message a former college classmate sent her recently via Facebook, she felt a momentary pang of regret. After all, many of her classmates had hightailed it out of town right after graduation from Carnegie Mellon University. Opportunity -- and big salaries -- beckoned in larger cities. No one in the class of 2002, it seemed, wanted to be the last one left in dowdy, down-on-its-luck Pittsburgh, the dowager of the Rust Belt.
Koshzow, now 29, stayed in the 'Burgh and became one of its biggest boosters. Today the co-founder (along with two classmates) of a marketing consultancy called Branding Brand, she says the city is ideal for bootstrapping young entrepreneurs. Pittsburgh offered all the essentials her startup needed to get off the ground: low-cost office space, reasonably priced accounting and legal services, and plentiful, bargain-priced workers thanks to strong tech and business programs at Carnegie Mellon and the University of Pittsburgh.
Koshzow and her two partners -- Chris Mason and Joey Rahimi, both 30 -- are veteran entrepreneurs. For a class project, they and another classmate started College Prowler, a popular series of guidebooks to more than 200 U.S. colleges. In 2007 Koshzow, Mason and Rahimi launched Branding Brand. In the first year the company snagged heavyweight local clients, including Dick's Sporting Goods (DKS), the $4-billion-a-year retailer. Branding Brand has also won business from corporate customers in Los Angeles, San Francisco and New York City. Revenues will top $1 million in 2009, Koshzow estimates.
Branding Brand just leased 5,000 square feet in a lively student neighborhood called Oakland. Monthly rent: $500, or about a dime a square foot.
Granted, the space had been empty for years and needed some work at first. There was no electricity, so the founders had to chase down an electrician to wire the offices. They figure the initial work was worth it, though. "Our rent is less than some companies pay for parking," Koshzow brags.
Pittsburgh also offers a dynamic cultural scene. Numerous restaurants, pubs and art galleries have opened in the past five years or so. The Mattress Factory, a popular gallery that takes its name from the former industrial use of the space it occupies, is dedicated to room-size installations of radical contemporary art. Fashionistas flock to the Design Zone, a specially designated urban corridor with more than 100 locally owned shops offering design services, art, clothing and home decor.
"The new energy here blows me away," says Lynsie Camuso, 31, who left a job as a talent booker for television shows in Los Angeles to start an event ticketing service in Pittsburgh called ShowClix. "This isn't the city I left 10 years ago."
The local government encourages entrepreneurs to set up shop in the Iron City. Drawing from a $2 million fund established in April, Pittsburgh provides low-interest startup loans of up to $200,000. (Tech ventures get priority.) The city also offers R&D tax credits and is reviving a program that paid companies to hire interns from local colleges and universities. The state of Pennsylvania grants additional incentives; learn more at newpa.com.
One drawback: Pittsburgh is not the most convenient city to reach or leave. Entrepreneurs say one of the biggest hassles of doing business there is the limited air service at Pittsburgh International Airport. Cutbacks by U.S. Air (LCC, Fortune 500) and other carriers have trimmed flights in and out of the airport by more than 50% since 2001. West Coast and international service is limited. Airport authorities are working hard to restore service, mostly by wooing discount carriers.

To write a note to the editor about this article,
click here
.