AIG bonuses in the cross hairs
House Oversight Committee hears testimony from bailout overseer on nearly $1.8 billion in bonuses promised by troubled insurer AIG.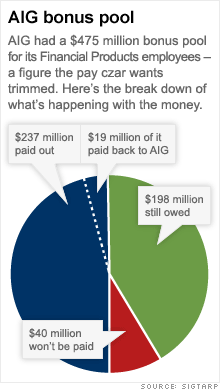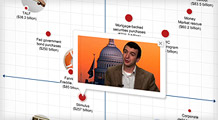 The collapse of Lehman led to a deeper recession and a litany of government programs to try to end the pain. We rate just how bold and effective the plans have been so far.
NEW YORK (CNNMoney.com) -- Congress is resurfacing its outrage over AIG's bonuses after a report detailed the vast scope and scale of the troubled insurer's executive compensation plan.
Neil Barofsky, the special inspector general of the $700 billion bailout program, said in a report released Tuesday that AIG's 2008 compensation plans totaled $1.77 billion. That's despite the company recording nearly $100 billion in losses last year, including the largest ever quarterly loss in the history of American business.
Barofsky appeared before the House Oversight Committee Wednesday morning to answer lawmakers' questions about his report.
"What is the justification for giving bonuses to people who drove their own firm off a cliff and very nearly crashed the U.S. economy?" asked Committee chairman Edolphus Towns, D-N.Y. "Wasn't there something seriously out of whack here?"
Barofsky's report says that AIG had roughly 630 separate compensation programs for bonuses, retention and deferred compensation in 2008. The most controversial of the plans was the $475 million in retention payments to employees of AIG's Financial Products unit. Employees of that division wrote insurance contracts on complex financial instruments that led to the company's near collapse and subsequent $182 billion taxpayer-subsidized bailout.
AIG has argued that the retention payments are necessary to keep the 400 employees of the Financial Products unit, who the company says are uniquely qualified to take necessary steps to pay back the government.
Bonuses paid to 'non-essential' workers: Though Barofsky acknowledges that many Financial Products employees are needed to unwind that division's portfolio, the report also shows that bonuses were paid to non-essential personnel at the Financial Products unit, including $7,700 to a kitchen assistant, $700 to a file administrator and $7,000 to a mailroom assistant.
Rep. Elijah Cummings, D-Md., said he was furious that AIG paid out bonuses to non-essential staff, saying the insurer had deceived Congress about the scope of the bonuses to that unit.
"AIG has not been truly honest with the Congress of the United States of America," said Cummings. "[Former AIG Chief Executive Edward] Liddy constantly told me about bonuses, and each time he never gave us all the information."
Barofsky said he too "was left with the impression that the money was going to people who were necessary and involved with complex transactions, but retention payments went to essentially to every single employee at financial products."
Treasury dropped the ball: Barofsky said part of AIG's failure to report the scope of the bonuses was due to their complicated nature, but he also called out Treasury for failing in its job to understand the company's compensation structure.
"I would throw one other possibility in there and that's incompetence," said Barofsky. "We were the first to ask the question of who were the people who got compensation and what their jobs were."
But he said the Fed had a very different interest in AIG than Treasury did. The central bank was acting as creditor, solely concerned with getting its money back. To the Fed, a few hundred million dollars "was not a big deal" compared to the more than $100 billion it gave AIG.
Treasury, however, acted as investor, and it should have done more exploring of the company's inner workings, Barofsky argued.
"This was a failure. It was a failure of oversight from Treasury," said Barofsky. "A failure to give clear directions and have a clear oversight is a recipe for disastrous consequences of earlier this year."
Payback: The controversy over the bonuses reached a fevered pitch in March, when the public and lawmakers first found out about the retention payments. Due to the intense public scrutiny, AIG asked Financial Products employees who took home more than $100,000 in retention awards to give back half of their bonuses. AIG has gotten pledges to return $45 million, but so far has only gotten $19 million back, Barofsky said.
The report said part of the reason that many of the highest-paid employees have not returned their bonuses is that they are waiting to see what President Obama's pay czar, Kenneth Feinberg, rules on their future retention payments.
AIG has said it still owes about $198 million to Financial Products employees, and the payments are scheduled to be doled out in March 2010. AIG asked Feinberg to review the remaining retention payments due to the intense public scrutiny over them.
Feinberg has recommended to AIG that the full $198 million not be paid out in full, but has not yet made a specific recommendation to AIG about how much the insurer should reduce the payments, according to Barofsky.
The pay czar will appear before the Oversight Committee in two weeks to discuss an approval due by the end of the month of the executive compensation of seven bailed out firms, including AIG.
AIG (AIG, Fortune 500) scheduled the retention payments in three installments: $69 million in December 2008, $168 million in March 2009 and $238 million to be paid in March 2010. But since many employees have left the company, $40 million of the final installment will not be paid out.
Many lawmakers said the government should not allow any future retention payments to Financial Products employees. Although Barofsky would not go that far, he said that the United States could throw around its weight a bit more to get AIG in line with taxpayers' sensitivities.
"We own 80% of the company and sometimes it's important for the company to recognize the leverage it has," said Barofsky.

Features

These Fortune 100 employers have at least 350 openings each. What are they looking for in a new hire? More

It would be the world's second-biggest economy. See how big companies' sales stack up against GDP over the past decade. More