IBM profit grows despite sales drop
The IT giant posted stronger-than-expected earnings and raised its 2009 outlook, but its revenues slipped from last year.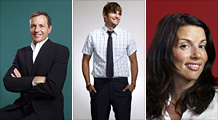 These tech-world luminaries - photographed during our recent Brainstorm Tech conference - aren't just changing the game; they've defined it. Photographs by Robyn Twomey.
NEW YORK (CNNMoney.com) -- International Business Machines posted third-quarter results on Thursday that met analysts' forecasts, then raised its expectations for the rest of the year, citing improving sales trends during the quarter.
But investors were unimpressed: IBM shares dropped 5% in after-hours trading.
IBM (IBM, Fortune 500) said its net income for the quarter rose to $3.2 billion, up 14% compared to last year. Its per-share earnings were $2.40, beating the $2.38 per share consensus estimate of analysts polled by Thomson Reuters.
Sales for the Armonk, N.Y., diversified tech company fell 7% to $23.6 billion, slightly ahead of analysts' forecast of $23.4 billion.
Sales were down 5% in IBM's North American region and 6% in emerging markets, but dropped 12% in Europe, the Middle East and Africa.
Software was IBM's bright spot for the quarter. Software sales fell 3% -- the smallest decline for any of the company's business units -- but sales of IBM's middleware products rose 2%, to $2.9 billion.
Companies use middleware like IBM's WebSphere and Tivoli software to integrate disparate IT systems. Middleware accounted for more than half of IBM's software revenue during the quarter and is the fastest-growing part of IBM's software portfolio, IBM CFO Mark Loughridge said in a conference call with reporters following the financial results release.
IBM is optimistic about the rest of the year and expects full-year 2009 earnings of at least $9.85 per share, compared with its previous prediction of $9.70 per share.
The company also said is it "well ahead of pace" for its 2010 plans for earnings of $10 to $11 per share.

Features

These Fortune 100 employers have at least 350 openings each. What are they looking for in a new hire? More

It would be the world's second-biggest economy. See how big companies' sales stack up against GDP over the past decade. More