Wal-Mart vs. Amazon: Fight is on for book sales
The world's largest retailer launches a price war against the Web's premier bookseller as the crucial holiday sales period looms.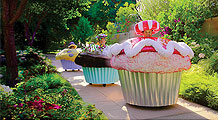 Each year, Neiman Marcus unveils a handful of over-the-top fantasy holiday gifts. Take a quick spin through the luxury retailer's 2009 Christmas Book and you just might forget about scaling back this year.
NEW YORK (CNNMoney.com) -- Wal-Mart and Amazon continued a price war on Friday as the retail heavyweights vie for online book sales ahead of the critical holiday shopping season.
One day after Wal-Mart announced it was pre-selling 10 highly-anticipated books for $10 each on its Web site, Amazon (AMZN, Fortune 500) said it would match that price.
In response, Wal-Mart.com (WMT, Fortune 500) dropped the price to $9, a move Amazon also met.
The books, which all have release dates in November, are by big-name authors such as Sarah Palin, John Grisham and Stephen King.
The price war comes as retailers look for ways to entice bargain shoppers ahead of the holiday sales period, when retailers bring in the bulk of their profit for the year. Last year, consumers spent nearly $450 billion.
While the move could have serious implications for the publishing industry, some observers say Wal-Mart may be more interested in kick-starting online sales than taking over the book business.
"It's hard to know if this is an effort to transform the book business, as they've done with many other businesses before, or an effort to draw attention to the fact that you can buy a lot of [Wal-Mart's]products online," said Charles Fishman, author of "The Wal-Mart Effect."
Raul Vazquez, chief executive of Walmart.com, would only say that the company is "committed to providing our online customers with the lowest prices available."
"That commitment extends to the nation's best-selling books, especially during an increasingly challenging year for many of our customers," he added in a prepared statement released on Thursday.
While book sales are not a big part of Wal-Mart's overall business and the company may actually lose money on the $9 offer, the low-cost juggernaut's presence in the book business is disturbing, Fishman said.
"As an author, this is a little scary," he said. "If consumers expect to get hardcover books for $10, that will have a dramatic impact on the quality of books they get."

Features

These Fortune 100 employers have at least 350 openings each. What are they looking for in a new hire? More

It would be the world's second-biggest economy. See how big companies' sales stack up against GDP over the past decade. More