Airline sales plunge? Blame low fares
Revenue falls 19% in September, according to a new report, but the number of passengers filling seats slips just 2%.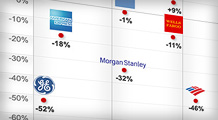 Key financial firms received a wide range of assistance during the past year. But scroll over their stocks and you'll find few winners – and plenty of losers.
More
NEW YORK (CNNMoney.com) -- Airline passenger revenue plummeted 19% in September year-to-year, an industry trade group said Tuesday -- but it's not for lack of business.
Passenger volume slipped just 2% in September year-to-year, according to the Air Transport Association. The group blamed the sales plunge on a decline in air fares, noting that the average price to fly one mile fell 18% in September, compared with a year ago.
"The demand for air travel remains weak," said ATA Chief Executive James May, in a statement. "While other sectors may be seeing signs that the economy is getting back on track, the airline industry has faced challenges in its effort to generate revenue."
September was the 11th consecutive month of declining passenger revenue versus a year ago, and the 10th consecutive month of ticket price declines, the ATA said.
ATA spokeswoman Elizabeth Merida said her group's figures do not include revenue from the fees that airlines started imposing last year on services that once came for free, such as checked baggage, pet travel, non-alcoholic drinks and food. Nor would the ATA provide an estimate on how much those fees totaled.
According to the U.S. Department of Transportation, the extra fees added up to $1.15 billion last year.
Most recently, five of the major carriers including U.S. Airways (LCC, Fortune 500), AMR Corp.'s (AMR, Fortune 500) American Airlines, UAL Corp.'s (UAUA, Fortune 500) United Airlines, Continental Airlines (CAL, Fortune 500) and Delta Air Lines (DAL, Fortune 500) added a $10 surcharge to holiday flights instead of raising fares.
ATA spokesman David Castelveter said the extra fees are "the airline industry's attempt to generate the revenue that it needs to return to profitability."
But he said he expects more pressure on airline revenue going forward, given the recent rally in fuel prices. He said that every $1 increase in the price of crude oil means an extra $430 million in costs for the airline industry.
"That means that are costs are going to continue to go up at a time when the economy is continuing to be weak," said Castelveter.
Raymond Neidl, an airline consultant, said the fees "partly offset" the decline in revenue, but they're not nearly enough to fix the problem. He said that airlines will continue to struggle until a recovery can stem the decline in business travel.
"Business travel is way off and that's where the airlines get half their revenue," he said. "That's the crux of the problem."

Features

These Fortune 100 employers have at least 350 openings each. What are they looking for in a new hire? More

It would be the world's second-biggest economy. See how big companies' sales stack up against GDP over the past decade. More