Yahoo earnings soar even as sales drop
Second largest search engine's earnings nearly double Wall Street's expectations but revenues drop 13%.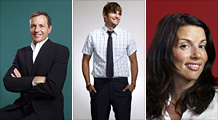 These tech-world luminaries - photographed during our recent Brainstorm Tech conference - aren't just changing the game; they've defined it. Photographs by Robyn Twomey.
NEW YORK (CNNMoney.com) -- Yahoo Inc. raised its outlook for the rest of the year on Tuesday as it reported third-quarter earnings that blew past analysts' forecasts.
Shares of Yahoo (YHOO, Fortune 500) rose nearly 6% in after-hour trading as the search giant announced that its net income for the quarter increased to $186 million, up 244% compared to last year.
Yahoo said it earned 13 cents per share in the quarter ended Sept. 30. Excluding stock-based compensation costs and certain other expenses, earnings were 15 cents per share. Analysts polled by Thomson Reuters had expected a profit of 7 cents per share.
Sales for the Sunnyvale, Calif., company fell 13% to $1.6 billion, but were nearly flat compared to Yahoo's second-quarter. Excluding advertising sales that Yahoo shares with its partners (also known as traffic acquisition costs, or TAC), the company reported revenue of $1.13 billion, edging past analysts' forecasts of $1.12 billion.
"Our major businesses have stabilized," CEO Carol Bartz said in a written statement.
Yahoo's closely watched display advertising business was down 8% from last year, but sales rose compared to last quarter, chief financial officer Tim Morse said in a conference call with investors.
Allen Weiner, an analyst who follows Yahoo at tech consultancy firm Gartner, said display ads were among the first to be slashed from companies' recession-crunched advertising budgets.
Though Weiner said the financial results were not spectacular, they will keep Yahoo in the game.
"The best thing about the third-quarter earnings is that they won't put Yahoo in a negative light," Weiner said. "They'll regain credibility in the market, and the fourth quarter is what will dictate Yahoo's future."
Yahoo, which draws its revenue from a mix of search and banner ads on its diverse roster of online services, is trying to revitalize its services to maintain an edge in the cutthroat world of Web portals.
Yahoo launched its first-ever global branding campaign in the last week of the quarter. Morse said the early statistics are "encouraging," and Yahoo expects the effort to "translate to more users over time."
The company is forecasting fourth-quarter revenue of between $1.6 billion and $1.7 billion, excluding TAC. That's much higher than the $1.22 billion analysts expected. It would also beat the company's $1.38 billion in sales in the fourth quarter of 2008.
"The fourth quarter is big for anybody who deals with consumers," said Weiner. "And when people are using the Internet to save money, Yahoo is a useful tool. Anyone who wants to do careful holiday shopping will use search engines quite a bit. That positions [Yahoo] pretty well."
In July, Yahoo and Microsoft (MSFT, Fortune 500) struck a search partnership that is currently being reviewed by antitrust regulators at the Justice Department. Under the deal to challenge Google's dominance in online search, Yahoo.com and the software giant's Bing.com will maintain their own branding, but search results on Yahoo.com will say "powered by Bing." Yahoo, in turn, will focus on attracting premium advertisers.
Microsoft is expected to post declining profit and sales when it reports fiscal first-quarter results before the market opens Friday.
Last Thursday, chief rival Google (GOOG, Fortune 500) posted impressive third-quarter earnings that beat Wall Street's forecasts. The leading Internet search leader said sales rose 7% from the same period last year, and the company's chief executive, Eric Schmidt, said the advertising recession has ended.
To capitalize on advertisers' interests and challenge Yahoo's dominance in display ads, Google introduced its DoubleClick Ad Exchange last month to improve advertisers' ability to put display ads on Web sites.

Features

These Fortune 100 employers have at least 350 openings each. What are they looking for in a new hire? More

It would be the world's second-biggest economy. See how big companies' sales stack up against GDP over the past decade. More